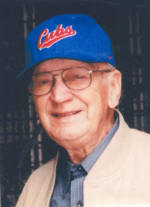 Raymond Pech

Send a link to a friend
[May 21, 2007] Raymond Glenn Pech, 93, of Lincoln died Saturday, May 19, 2007, at 8:23 p.m. at Abraham Lincoln Memorial Hospital in Lincoln.
Visitation will be 4-7 p.m. Tuesday at Fricke-Calvert-Schrader Funeral Home in Lincoln. His funeral will be at 10:30 a.m. Wednesday at the funeral home, with the Rev. Richard Reinwald officiating.
Burial will be in Atlanta Cemetery, Atlanta.

Mr. Pech farmed in East Lincoln Township for 72 years.

He was born May 4, 1914, in Atlanta to Adolph L. and Katherine C. Wilmert Pech. He married Ilona E. Wachter on Aug. 28, 1954, in Missouri.

He is survived by his wife, of Lincoln; one son, Thomas R. (and Leanne M.) Pech of Bloomington; one daughter, Susan K. (and Dr. Mark H.) Goergen of Groveland; two grandsons, Kristofer Goergen of Peoria and Alex Goergen of Groveland; one granddaughter, Kathryn Goergen of Groveland; and one sister, Helen Opperman of Lincoln.

He was preceded in death by two brothers, Harold C. and Earl D. Pech, and one sister, Mildred M. Wilmert.

He was a member of St. John United Church of Christ and a former school board member for Lawndale Grade School.

As a longtime farmer, he was still active in day-to-day activities and recently field planted for the season.

He was known for his sense of humor and love of the simple pleasures of life.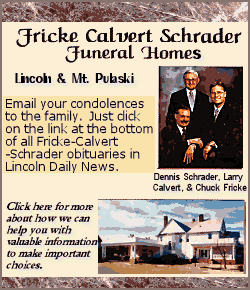 He loved to compete in horseshoes and had a 75 percent ringer percentage. He was an avid Cubs fan and always was hopeful that "this was the year."
Raymond enjoyed and loved his family. He will be greatly missed, but wonderful memories of him as a husband, father, father-in-law and grandfather will always remain.
The family wishes to thank the Community Cancer Center in Normal and Dr. John Migas for the wonderful support and care given to Raymond.
Memorials may be made to St. John United Church of Christ or the Community Cancer Center of Normal.