Department of Transportation to suspend lane closures over Memorial Day weekend to give motorists a break
Illinois State Police and agencies urge drivers to buckle up in the midst of the 'Click It or Ticket' campaign

Send a link to a friend
[May 24, 2007] SPRINGFIELD -- With thousands of people traveling over the upcoming holiday weekend, the Illinois Department of Transportation announced suspension of roadwork where possible to make for a smoother drive this Memorial Day weekend. The department also wants to remind folks to buckle up in the midst of Illinois State Police's 2007 "Click It or Ticket" campaign.
The Department of Transportation has opened up various construction zones for the Memorial Day weekend. Restrictions will be in place from 3 p.m. Friday through midnight Monday.

"Memorial Day weekend is a busy time on the roadways since so many folks are traveling to see family and friends. We want to urge drivers as well as passengers to buckle up before hitting the roadways," said Milton R. Sees, acting secretary of the Department of Transportation. "We're opening as many lanes as possible, to keep drivers and workers safe and also to make travel as smooth as possible."

Holiday travelers are reminded that work zone speed limits will continue to be in effect 24/7 in all construction zones. Motorists should continue to watch for changing traffic patterns and use caution, especially when workers are present. The minimum fine for speeding in a work zone is $375, whether there are workers present or not. Posted signs advise motorists of a $10,000 fine and 14-year jail sentence for hitting a roadway worker.
Reminder to drivers: "Click It or Ticket"
Also this holiday weekend, the Department of Transportation and Illinois State Police are teaming up with more than 300 local police agencies to mount the largest ever nighttime safety belt enforcement effort in Illinois. During the Memorial Day Click it or Ticket mobilization, motorists can expect more than 3,600 safety belt enforcement zones statewide, with almost 700 enforcement zones planned for after dark, the time when surveys show more drivers fail to buckle up.
In addition, Illinois State Police District 15 will patrol the 274-mile Illinois Tollway system throughout the holiday. Troopers will conduct roadside safety checks throughout the weekend, as part of Click It or Ticket and the Special Traffic Enforcement Program to raise public awareness of traffic laws by enforcing speed limits and seat belt usage.
District 15 will also run Operation Combined Accident Reduction Effort details, which focus on the "fatal five" violations: speeding, following too closely, failure to use seat belts, improper lane usage and driving while under the influence -- all of which will be rigorously enforced.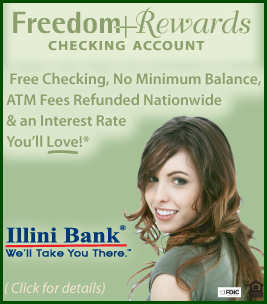 Permanent work zones and closures remain in place
In the greater Chicagoland area, all lanes on the Edens, Eisenhower, Kennedy and Stevenson expressways, as well as interstates 80 and 57 will be open.
However, due to the nature of some projects, there will be construction zones throughout the state that will continue to operate. This work is not expected to affect traffic and will help keep projects on schedule. The Department of Transportation is urging motorists to slow down and drive with caution through these work zones. Holiday travelers are reminded that work zone speed limits are still in effect.
Motorists are advised to check www.illinoisroads.info for information regarding road conditions and updates on road construction. Department of Transportation interstate road condition information is also available at 1-800-452-IDOT (4368).
For details about areas that will continue to have lane closures, click here.
[Text from Illinois Department of Transportation news release received from the Illinois Office of Communication and Information]