Ben Anderson

Send a link to a friend
[November 30, 2007] MIDDLETOWN -- Ben R. Anderson, 70, of Middletown died Thursday, Nov. 29, 2007, at 3:22 p.m. at St. John's Hospital in Springfield.
Visitation will be from 4 to 7 p.m. Monday at Fricke-Calvert-Schrader Funeral Home in Lincoln. His funeral will be at 10 a.m. Tuesday at the funeral home, with Pastor Greg Wooten officiating.

Burial, with military rites, will be in Irish Grove Cemetery, rural Middletown.

Mr. Anderson retired from Caterpillar Tractor Co. and was a part-time farm hand.

He served with the U.S. Army as an ammunition supplies specialist in Lebanon during the Korean War. .

He was born Nov. 10, 1937, in Middletown to William and Helen Rogers Anderson. He married Donna J. Johnston on April 22, 1960, in Middletown. She preceded him in death June 4, 2005.

He is survived by one son, Warren Anderson of Middletown; one daughter, Tammy Anderson of Middletown; three sisters, Flora Tibbs of New Holland, Mary Etta (and Frank) Rogers of Westhoff, Texas, and Elsie Tibbs of Middletown; and two brothers, Abe (and Betty) Anderson of Lincoln and Robert Anderson of Atlanta.

He was also preceded in death by his parents and two brothers, William and Lem Anderson.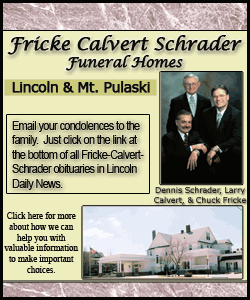 He was of the Protestant faith.
He was a member of the Middletown Fire Department for over 40 years and was former fire chief and member of the Middletown Rescue Squad.
Memorials may be made to the Anderson family in care of the funeral home.
Click here to send a note of condolence to the Anderson family.