Mary Eimer

Send a link to a friend
[November 29, 20007] Mary M. Eimer, 78, of Bloomington, formerly of Lincoln, died Tuesday, Nov. 27, 2007, at 9:04 p.m. at St. Joseph Medical Center in Bloomington.
A graveside service will be at 1 p.m. Saturday at St. Mary's Cemetery in Lincoln, with the Rev. John Huy Pham officiating.

Her body has been cremated and no visitation is scheduled.

Peasley Funeral Home in Lincoln is in charge of arrangements.

Mrs. Eimer was a nurse's aide at St. Joseph Hospital for 21 years.

She was born in Lincoln on March 8, 1929, to Herbert and Helen Wheeler Herberger. She married William "Bill" C. Eimer on July 19, 1947, at St. Mary's Catholic Church in Lincoln. He preceded her in death.

She is survived by her two sons, James Eimer of Bloomington and Michael (and Catrina) Eimer of Clinton; one sister, Norma (and Carl) Donath of Lincoln; nine grandchildren; and 12 great-grandchildren.

She was also preceded in death by one sister, Betty Pollettie, and two great-grandchildren.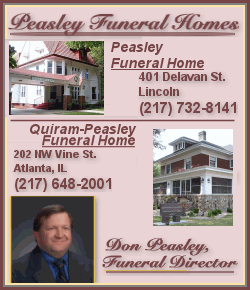 Mrs. Eimer was a member of St. Mary's Catholic Church in Bloomington.
She graduated from Lincoln High School in 1947.
Memorials may be made to the American Cancer Society.
Click here to send a note of condolence to the Eimer family.