Helen Langley

Send a link to a friend
[November 30, 2007] Helen G. Langley, 92, of Bloomington, formerly of Lincoln, died Thursday, Nov. 29, 2007, at 2:47 a.m. at her home.
Her funeral will be at 11 a.m. Saturday at Peasley Funeral Home in Lincoln, with the Rev. Thomas W. Shaw officiating. Visitation will be for two hours prior to the service.

Burial will be in Holy Cross Cemetery.

Mrs. Langley had worked at the Lincoln Garment Factory, Holiday Inn and had also run a day care.

She was born Nov. 9, 1915, in St. Louis to Art and Clara Burcham. She married Emmett E. Langley on Aug. 12, 1933. in Lincoln. He preceded her in death on May 28, 1987.

She is survived by three sons, William "Bill" (and Norma) Langley of Decatur, Richard (and Judy) Langley of Atlanta and Don (and Cheryl) Langley of Lincoln; and three grandchildren she raised, Brenda Anderson of Bloomington, Ricky Langley of Lincoln and Joe Langley of Bloomington. She had numerous grandchildren, great-grandchildren and great-great-grandchildren.

She was also preceded in death by two grandsons and one granddaughter.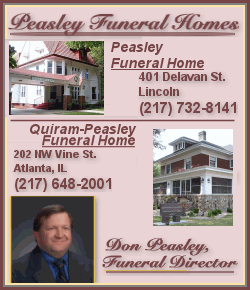 Mrs. Langley was a member of Holy Family Church in Lincoln.
Memorials may be made to St. Joseph Home Care in Bloomington.
Click here to send a note of condolence to the Langley family.