CLASSIFIED ADS
---
PUBLISHER'S NOTICE
Federal and state laws prohibit employment advertisements that express a discriminatory preference on the basis of race, age, sex, color, national origin, religion, handicap, or marital status.
Lincoln Daily News will not knowingly accept advertising for employment which is in violation of these laws. Our readers are informed that employment offerings advertised are available on an equal opportunity basis.
---
---
Neal Tire & Auto Services
is accepting applications for a General Service Technician. The successful candidate will have a valid drivers license & verifiable experience in general automotive service, including tire service & repair & oil change.
Full time position offering a competitive starting wage & an excellent benefit package which includes health & dental insurance, vacation & retirement plans.
Bring your resume or work history to:
Neal Tire - 451 Broadway
Lincoln, IL
EOE Drug Free
---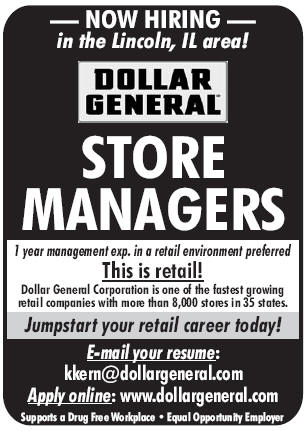 Send a link to a friend
---
Busy Lincoln salon looking for part-time stylist and nail tech. Must be good with acrylics. Commission. Call 217-732-7267; ask for Vicki or Kay.

Send a link to a friend
---
Case Management Position
Maple Ridge Care Centre, a 126 bed sub-acute skilled facility located in Lincoln, Ill., is seeking a Registered Nurse to head our new case management program with excellent benefits.
This individual will serve as a liaison between the hospitals and medical centers in all surrounding counties and neighboring cities, and Maple Ridge Care Centre. This individual will collaborate with primary care and specialty physicians, the hospital discharge planning and case management departments, and our clinical staff, to identify and monitor specific medical and nursing needs of patients as they transition between the hospital and our facility. Additional responsibilities of the registered nurse will include monitoring the progress of our hospitalized patients and providing this information to the primary care physicians and nursing staff of Maple Ridge Care Centre. A key component of the case management program will be enhancing relationships and improving communication between the hospitals and Maple Ridge staff.
Send resume to:
Maple Ridge Care Centre
2202 N. Kickapoo St.
Lincoln, IL 62656

Send a link to a friend
---
Local insurance agency in need of part-time customer service rep. Future full-time position possible. Insurance license a plus. Send resume to: Insurance, PO Box 615, Lincoln, IL 62656.

Send a link to a friend
---
Making a Difference at The Christian Village
We are looking for enthusiastic, energetic, and outstanding individuals to provide compassionate care to our residents. Our seniors need capable hands and hearts of those willing to make a difference.
LPN
FT or PT, 3-11 p.m.
Sign-On Bonus
CNA
FT or PT, 2-10 p.m.
Send resumes or apply in person at:
THE CHRISTIAN VILLAGE
1507 Seventh St.
Lincoln, IL 62656
Email: careers@christianhomes.org
Fax: 217-735-8686
Another Quality Christian Homes
Senior Care Community
www.christianhomes.org
EOE M/F/D/V

Send a link to a friend
---
Are you underemployed? Thinking about a new career? Here's your chance to make a change! MWCI, an area leader in machining, welding and tube bending, is seeking highly motivated individuals for second and third shift positions. Openings currently exist for:
Experience preferred, but we are willing to train the right people. In addition to our attractive benefit plan, we offer a competitive hourly rate. Qualified applicants apply at: MWCI, 70 Commerce Dr., Morton, IL or e-mail opportunities1@mortonwelding.com.

Send a link to a friend
---