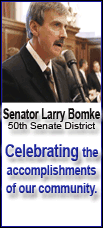 Kelly Butterfield and her husband, Lincoln police officer Tim Butterfield, came before the city council this past week to explain how the city is helping.

Kelly is Lincoln's St. Jude Hospital coordinator. She has been to the Memphis, Tenn., hospital twice and described the visits as emotionally grounding. "St. Jude's is a pretty cool place," she said. "They don't turn people away because they don't have money. If you don't have insurance, they don't care. If you don't have money, they pay for you to get there. They pay for you to stay there. They just want for your child to have the best treatment possible."

In 1962, when St. Jude's opened, the survival rate for the most common form of childhood leukemia, acute lymphoblastoma, was 4 percent. Today, survival is over 90 percent, she said.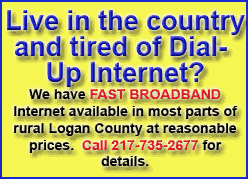 Tim is fully in support of his wife's efforts. "I can only hope that if my child would have this problem, somebody would step up to the plate," he said. Recalling their visits to the children's research hospital, he said, "We absolutely fell in love with these kids and we don't even know who they are. They all have futures; they all have dreams."
An estimated eight or nine children from the area have benefited from the hospital.
This year the team's shirts will say "Lincoln/Mason City" because Mason City is making up half the team and raising half the money, Kelly said. A little girl from there, Jessie, right now is battling cancer around her spine.
The St. Jude runs were started 26 years ago and there are now 19-20 runs, Chicago to St. Louis and Quincy to Champaign. This will be Lincoln's 19th year to participate and the fifth year that Tim Butterfield will make the 54-mile run from Lincoln to Peoria.
There will be 32 runners for the Lincoln-to-Peoria portion. The run also has 14 volunteers on the support staff.
The couple took turns talking about all the local support that makes the run a success. An EMT from Lincoln Rural Fire Department and a paramedic from the Logan County Paramedic Association make up this year's medical team. The Logan County Emergency Management Agency is supplying an ambulance. St. Jude's supplies the gas for the support vehicle. The Lincoln Police Department volunteers to see the runners all the way to Peoria. Community Action and local businesses have been great in assisting with food and other donations.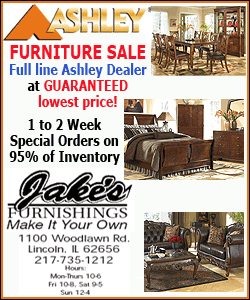 Runners stay together in a pack, alternating places to run and rest. Most runners put in an average of 20 miles on the day of the race, which begins at 5:30 a.m. at the Lincoln Safety Complex and goes to about 5:30 p.m., ending in Peoria. One young man ran the entire distance last year. Another local resident, Jon Diers, will be making the full run from Memphis to Peoria.
Each runner is expected to raise $500 each. Lincoln's presentation will be a little lower than last year's whopping $43,000, with major contributors taking a year off, but Kelly hopes that it will still be about $20,000. Lincoln's donation is scheduled for presentation during the telethon at approximately 8:40 p.m. on Saturday.
Lincoln has done well as one of the smallest communities, raising more money last year than the bigger communities of Decatur or Springfield and competing with Champaign and Bloomington, Kelly said. She and Tim are committed to raising even more money for this worthy cause in the future.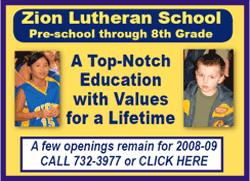 The runners follow country roads, heading out of Lincoln on Nicholson Road to Hartsburg, Emden, Delavan and Groveland before finishing in Peoria. If you live along their route, you will undoubtedly hear them as they pass, as the jubilant music that accompanies the entourage is equivalent to a big brass band celebrating.
Anyone wishing to make a donation on behalf of the Lincoln team can still do so by giving it to one of the runners or by going to any CEFCU in central Illinois.
[LDN]
Past related articles