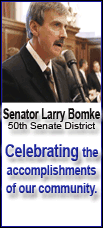 But prices at the pump fell again, with a gallon of regular gas slipping on average just over a penny to $3.898, according to auto club AAA, Oil Price Information Service and Wright Express. Gas is down 5.2 percent from record high of $4.114 a gallon reached July 17, as high prices eat into demand.
Crude prices soared after news reports quoted Israeli Deputy Prime Minister Shaul Mofaz as saying that Iran's nuclear program was poised to make a "major breakthrough" and that his country must be "prepared for every option."
Mofaz, a hawkish former defense minister and military chief, is a top contender to succeed Prime Minister Ehud Olmert, who announced Wednesday that he will resign in September amid a corruption probe.
Mofaz's comments "got everybody excited to buy oil again" on worries that a possible military strike against Iran would plunge the Middle East into another crisis, said Phil Flynn, analyst at Alaron Trading Corp. in Chicago.
"That caused the oil market to pop," Flynn said. "It's putting the focus back on Iran."
Light, sweet crude jumped as high as $128.60 a barrel on the New York Mercantile Exchange, its highest level in nine sessions, before easing back later to $125.95, up 87 cents. Prices fell $2.69 Thursday, and are still down 13 percent from the contract's record high above $147 reached last month.
Oil was also getting a boost as stocks retreated on news that jobs fell for the seventh straight month and that General Motors Corp. had its third-worst quarterly loss ever.
U.S. government data showed employers cut 51,000 jobs in July against an expected loss of 72,000 - but the July unemployment rate rose to 5.7 percent from 5.5 percent in June, a five-year peak and slightly higher than forecast.
In addition, the Institute for Supply Management said its manufacturing index fell slightly from June's reading, but came in better than economists expected.
July car sales figures will also be released Friday, another guiding point for the markets wanting to know where the American economy is heading.