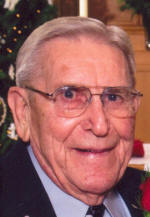 Lewis Logeman

Send a link to a friend
[August 02, 2008] EMDEN -- Lewis F. Logeman, 86, of Emden, died Thursday, July 31, 2008, at 10:20 p.m. at Abraham Lincoln Memorial Hospital.
His funeral will be at 10 a.m. Monday at St. Peter Lutheran Church, with the Rev. Frank Pieper officiating.
Visitation will be from 3 to 6 p.m. Sunday at Fricke-Calvert-Schrader Funeral Home in Lincoln and one hour prior to the service on Monday at the church.

Burial, with military rites, will be in Hartsburg Union Cemetery, Hartsburg.

Mr. Logeman was a retired building inspector for the city of Lincoln.

He served in the U.S. Navy as a bomber pilot during World War II.

He was born Oct. 8, 1921, at Dwight to Fredrick "Fritz" and Flora Skoneski Logeman. He married June Epperheimer on Sept. 7, 1942, and she preceded him in death March 2, 1991. He married Ruth Finchum Krueger on Dec. 26, 1994, in Emden.

He is survived by his wife, of Emden; three sons, Fredrick "Bud" Robert (and Leslie) Logeman of Harrisburg, David Baxter (and Shannon) Logeman of Los Angeles, Calif., and Paul Lewis (and Tracey) Logeman of Murphysboro; two daughters, Cindy Jane Kuro of Decatur and Rebecca Elizabeth (and Mike) Wheeler of Springfield; one stepdaughter, Jayne (and John) Cross of Emden; two stepsons, Fred R. (and Susan) Finchum of Atlanta and James (and Carole) Finchum of Springfield; six grandchildren, Rachel Elizabeth Kuro, Joseph Lewis Kuro, Sarah Jean (and Jay) Herring, Molly Louise (and Jeremy) Klope, James Paul Logeman and Alexander Lewis Logeman; one nephew, Terry (and Donita) Biggs of Lincoln; eight stepgrandchildren; and nine step-great-grandchildren.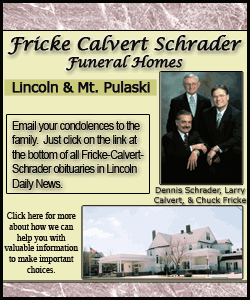 He was also preceded in death by one daughter, Deborah, and one sister, Harriet Biggs Talbert.
He was a member of St. Peter Lutheran Church and the Brotherhood of the church, Emden American Legion Post 506, and Logan Bible Fellowship. He was involved in prison ministry and was a hospice volunteer.
Memorials may be made to Camp Griesheim, Zion Lutheran School of Lincoln or the donor's choice.
Click here to send a note of condolence to the Logeman family.