Lincoln Daily News
welcomes letters of appreciation, information and opinion on matters pertaining to the community.
As a community we need to be able to talk openly about matters that affect the quality of our lives. The most effective and least offensive manner to get your point across is to stick to the issue and refrain from commenting on another person's opinion. Letters that deviate from focusing on the issue may be rejected or edited and marked as such.
.
You may also send your letters by e-mail to ldneditor@lincolndailynews.com
or by U.S. postal mail:
Letters to the Editor
Lincoln Daily News
601 Keokuk St.
Lincoln, IL 62656
Letters must include the writer's name, telephone number, and postal address or e-mail address (we will not publish address or phone number information). Lincoln Daily News reserves the right to edit letters to reduce their size or to correct obvious errors. Lincoln Daily News reserves the right to reject any letter for any reason. Lincoln Daily News will publish as many acceptable letters as space allows.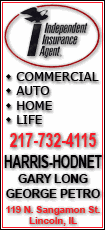 To the members of the Atlanta community and surrounding areas:

The Atlanta Betterment Fund would like to thank you very much for all the support and donations you've provided to help put a new roof on the Atlanta Country Market grocery store, and to address several of the crucial mechanical problems that need to be fixed at the store. In just several, short weeks you have helped do what many folks thought was impossible.

When the whole effort to help the grocery store in Atlanta began, two primary goals were set:
Stabilize the physical structure of the store and make needed mechanical repairs by forming the Atlanta Betterment Fund.

Increase sales at the store by adding new services, restocking the shelves and encouraging people to shop there.
With your help the first goal has been met. Money has been raised to carry out the priority repairs needed at the store, and those repairs are now being made -- thanks to you! We are now ready to intensely focus on the second goal. And of the two, it is the truly crucial one. If people do not come inside and shop at the Atlanta Country Market, it will not be a matter of if -- it will be a matter of when -- it will go out of business and the doors closed. What a shame it would be to shutter a building that has been so improved and upgraded, after all the financial and manpower support it has received. We are confident, however, that we can indeed increase sales at the store. All we need is your help.
[to top of second column in this letter]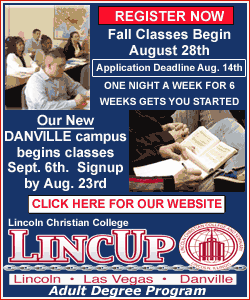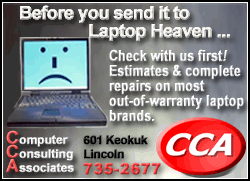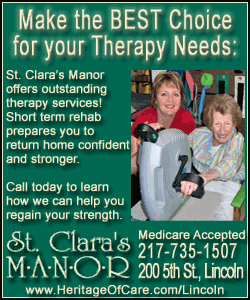 Everyone associated with the Atlanta Betterment Fund is open to hearing ideas and opinions of how to improve the grocery store. Many good ones have already been listened to and are in the process of being implemented. For example, the store will soon begin a free grocery delivery service to Atlanta's surrounding neighbors, including McLean, Waynesville and Lawndale. Customers of the Atlanta Country Market can now drop off, and then pick up their dry cleaning at the store, thanks to an arrangement with Custom Family Cleaners and Laundry of Lincoln. It is now very likely that credit and debit cards will soon be accepted at the store. And we continue to work on making the store a drop-off and pickup point for prescriptions. To give us your input and ideas, please complete a grocery store survey that is being sent out to Atlanta residents via an insert in the Olympia Review, and which is being mailed to McLean residents. Waynesville residents can pick up a survey to complete and return at the Waynesville Library, and residents of Lawndale will find copies of the survey at their post office.
Over the past several weeks you have demonstrated that you support the Atlanta Betterment Fund in its efforts to help local businesses and services survive. Will you now join us in the next important task we need to accomplish? Please step up to the plate and demonstrate that you will change your grocery shopping habits by increasing how often you shop at the store and by increasing how much you purchase there.
Again, we thank you for all your support to date. And we ask you for your continued prayers and help.
The Atlanta Betterment Fund board of directors
Billie Cheek, Dale Colaw, Susan Hoblit, Bill Martin, Bill Thomas
[Posted August 05, 2008]
Click here to send a note to the editor about this letter.
Previous related article