Raymond Gillmore

Send a link to a friend
[August 05, 2008] Raymond Leroy Gillmore, 61, of Lincoln, formerly of Petersburg, died Monday, Aug. 4, 2008, at his daughter's home from complications of cancer.
Visitation will be from 5 to 7 p.m. Thursday at Holland Barry and Bennett Funeral Home. His funeral will be at 1 p.m. Friday at the funeral home, with Lora Bohn officiating.

Burial will be in Youngblood Cemetery, Nortonville.

Mr. Gillmore was employed by Eaton Corp. in Lincoln for many years.

He was born Sept. 10, 1946, in Springfield to William Glenn Gillmore and Cletia Loretta Wilson. He was raised in Petersburg by his mother and stepfather, Cletia and Charles Scott.

He is survived by one daughter, Lora (and Jay) Bohn of Auburn; three grandchildren, Gage, Raymee and Jay Bohn, all of Auburn; three sisters, Gail (and MonDell) Johnson, Sandra Gillmore and Rosemary Saint, all of Middletown; several nieces, nephews and cousins; and friends.

He was preceded in death by his parents; his son, Raymond Leroy Gillmore II; and one sister, Retha Romer.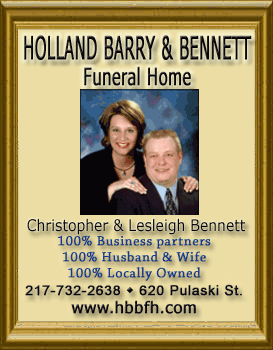 He loved NASCAR and had a passion for auto mechanics and antique cars, especially '57 Chevys. He enjoyed an occasional cold beer in front of a poker machine or a card game. He loved visiting with his grandchildren and his dog, Princey.
Memorial donations may be made to the Cystic Fibrosis Foundation and will be accepted at the funeral home.
Click here to send a note of condolence to the Gillmore family.