Eugene Lucas

Send a link to a friend
[August 09, 2008] MOUNT PULASKI -- Eugene C. Lucas, 83, of Ashland, Mo., formerly of Elkhart, died Friday, Aug. 8, 2008, at 12:07 p.m. at Bluegrass Terrace in Ashland.
Visitation will be from 4 to 7 p.m. Monday at Fricke-Calvert-Schrader Funeral Home in Mount Pulaski. His funeral will be at 10 a.m. Tuesday at the funeral home, with Jeremy Thomason officiating.

Burial, with military rites, will be in Mount Pulaski Cemetery.

Mr. Lucas was retired from farming in the Elkhart area.

He was an Army paratrooper during World War II.

He was born June 7, 1925, at Carlinville to Andy and Bessie Cox Lucas. He married Ruth Worth in Springfield on June 28, 1947.

He is survived by his wife, of Ashland, Mo.; two daughters, Lynnette (and Randall) Yaeger of Hartsburg, Mo., and Charlotte Pisarek of Troy, Mo.; one son, Leslie Lucas of Lincoln; one sister, Wilma Febus of Mount Pulaski; five grandchildren; eight great-grandchildren; and several step-great-grandchildren.

He was preceded in death by one son, Doug Lucas; two grandsons, Shawn Lucas and Michael Heyen; two brothers; and two sisters.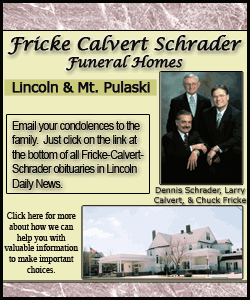 He was a member of Logan County Farm Bureau, Logan County Dairy Association, Cronin Brothers Veterans of Foreign Wars in Lincoln and American Legion Post 263 in Lincoln.
Memorials may be made to the Humane Society of Logan County or the American Diabetes Association.
Click here to send a note of condolence to the Lucas family.