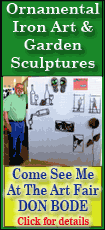 "On No. 15, I turned to Fuzzy Zoeller and told him I felt like I was one swing away from going down on my knees," Simpson said. "And Fuzzy said, 'I've been there, bud. Just hang in.'"
Simpson did, carding a 5-under 67 for a share of the lead with two-time Masters champion Bernhard Langer in the fourth of the five Champions Tour majors.
Langer, who shot a 66, and Simpson had 10-under 134 totals at the Crosswater Club. Fred Funk (66), Jay Haas (68) and Mike Goodes (68) were a stroke back, and Tom Watson (64) followed at 8 under. Defending champion Eduardo Romero, the U.S. Senior Open winner, was 5 under after a 65.
Simpson, slowed by Lyme disease in the early 1990s, wrenched his back on the practice range during the U.S. Senior Open and had to withdraw from that tournament.
Playing in the 100 degree heat Friday, he began to experience pain that got progressively worse as he neared the turn. After bogeys on Nos. 9 and 11, Simpson managed to make an 8-foot birdie putt on 12, then called for tour trainer Doug Miller to work on his back.
"My back sounded like Rice Krispies, so I guess I needed it," he said.
The adjustment offered temporarily relief to Simpson, who has two second-place finishes this year. But the 52-year-old wasn't sure whether he'll be able to finish the tournament.
"I feel lucky that I've been able to play two rounds, let along two great rounds," he said.
Langer, a two-time winner this year and the Champions Tour's money leader, was 12 under after birdieing eight of the first 15 holes. But the German star dropped two strokes with bogeys at 16 and 18.