She described the qualities that made Churchill a good candidate. He's been in the community a long time, a business owner, experienced in government entities, a retired cooperative employee (electric), on the Lincoln Public Library board, been involved with the community and has interest in a lot of issues.

City attorney Bill Bates pointed out that the library and the city taxing districts overlap. He believed that the law does not allow anyone to sit on both boards due to the conflict of interest it could create.

After the meeting Churchill said that he would not accept the position if he had to choose between alderman or library board. "There are too many things in process with the library," he said, and he would want to see some things through there first.

The legal point will be researched and a report brought to the council's next business meeting on Sept. 2.

Davis-Kavelman said that she was pleased by the number of people who contacted her with interest in the position and encouraged everyone to "stay involved with your government."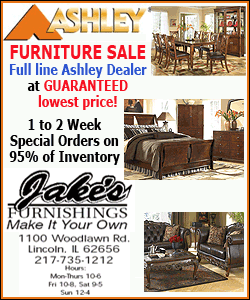 Eaton recognized
The Cutler-Hammer/Eaton Corp. is celebrating 50 years in Lincoln. On May 8, 1958, the manufacturer produced its first breaker at the local plant.
The mayor presented manufacturing manager Joe Blankley with a key to the city and said, "We thank you so much for Eaton's partnership with the city for all these years."
The company emphasizes community involvement and supports local charities.
Alderman David Armbrust, who retired from Eaton a few years ago, was asked to say a few words. He said, "The employees that go home after a day on the job and then donate time, talent and money to various charities and projects in our community, or their own, they are the ones that make the luster that shines on Eaton Corp."
[By JAN YOUNGQUIST]
A few of the past related articles on Eaton