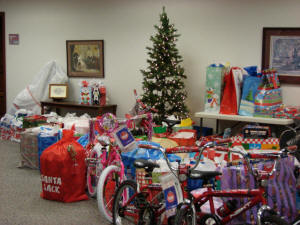 Remembrances of the past Christmas in Lincoln and Logan County organizations -- Businesses, churches and schoolchildren shared the joy of the season in song, in gifts, in heart.
Employees of a Lincoln company once again acted as elves, making Christmas brighter for needy families.
Eaton Corp. sponsored 150 names on this year's Jaycees Angel Tree. The office was brimming with gifts large and small. There were even a number of bicycles before they were delivered on Dec. 14. Eaton representative Gaynor Goodman said that the project is always well-supported by employees, and the company buys gifts for any unclaimed names. http://www.eaton.com/. [Picture by Jenna Gleason]
---
Carolers from Zion Lutheran School stopped by The Christian Village a few days before Christmas. "The children's gentle voices warmed the hearts of all the residents," Marcia Cook said.
[Picture by Marcia Cook, community nurse liaison, The Christian Village]