Ed Davison

Send a link to a friend
[August 25, 2008] MIDDLETOWN -- Ed Davison, 83, of Middletown, died Friday, Aug. 22, 2008, at The Christian Village in Lincoln with family by his side.
Visitation will be 5-7 p.m. Monday at Holland Barry and Bennett Funeral Home in Lincoln. His funeral will be at 10 a.m. Tuesday at the funeral home.
Burial will be in Irish Grove Cemetery, Middletown.

Mr. Davison retired from Caterpillar after many years of working as a machinist and millwright.

He served in the U.S. Army during World War II.

Edwin Albert Davison was born Sept. 20, 1924, in Middletown to Walter and Nettie Banister Davison.

He is survived by one son, Bill (and Norman) Edwards of Lincoln; two daughters, Judy Rohlfs of Colorado Springs, Colo., and Linda (and Lloyd) Gleason of Lincoln; two brothers, Kenneth (and Bert) Davison of Middletown and Gerald (and Jeri) Davison of Green Valley; one sister, Lois Boyer of Lincoln; eight grandchildren; 20 great-grandchildren; and one great-great-grandson.

He was preceded in death his wife, Lou, and two brothers, Robert Davison and Dean Davison.

He was a member of Sweetwater Christian Church.

Ed was a loving man who always saw to it that those less fortunate were cared for.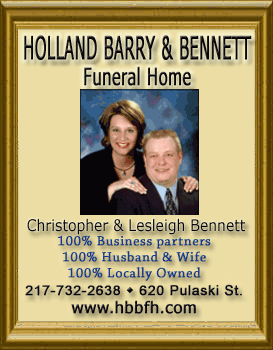 He spent countless hours at The Christian Village with his wife, and after her passing he still volunteered there. He read newspapers to people, ate lunch with them and was just a friendly face to see for many. He will be missed by all who were touched by his selflessness and kind nature.
Memorial donations may be made to hospice, The Christian Village or Sweetwater Christian Church and will be accepted at the funeral home.
Click here to send a note of condolence to the Davison family.