Mildred Blaum

Send a link to a friend
[August 27, 2008] NEW HOLLAND -- Mildred Faye Blaum, 95, of New Holland, died Monday, Aug. 25, 2008, at 4:55 a.m. at St. Clara's Manor in Lincoln.
Visitation will be 5-7 p.m. Friday at Fricke-Calvert-Schrader Funeral Home in Lincoln.
Her funeral will be at 10 a.m. Saturday at New Holland United Methodist Church, with the Rev. Dr. Becky Barrow officiating.

Burial will be in Richmond Grove Cemetery.

Mrs. Blaum was a retired schoolteacher. She had taught at Cambridge and Neibhur schools at San Jose and at New Holland Grade School.

She was born Oct. 29, 1912, at rural San Jose to J. Harness and Grace Edna Marshall Cunningham. She married H. Lynn Blaum on June 12, 1941, at San Jose. He preceded her in death on April 17, 2003.

She is survived by one son, John Lynn (and Sonia) Blaum of Orlando, Fla.; two stepgrandchildren, Robert Toller of Orlando, Fla., and Allison (and Justin) Havens of Port Orange, Fla.; and two step-great-grandchildren, Camille and Lyla Havens of Port Orange, Fla.

One brother and one sister preceded her in death. She was the last of her immediate family.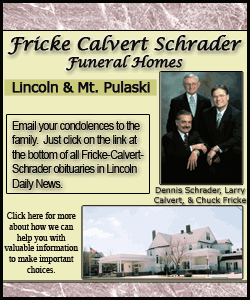 She was a member of New Holland United Methodist Church and United Methodist Women. She taught Sunday school and Bible school and was also a leader for Girl Scouts and 4-H.
Memorials may be made to her church.
Click here to send a note of condolence to the Blaum family.