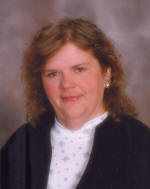 Cathy Richardson

Send a link to a friend
[August 29, 2008] DELAVAN -- Cathy Conrady Richardson, 49, of Delavan, died Tuesday, Aug. 26, 2008, in an auto accident in Tazewell County. Pronouncement of death was at 11:30 a.m.
Visitation will be 2-5 p.m. Sunday at St. John's Lutheran Church in Hartsburg. A celebration of her life will follow at 5 p.m. Sunday at the church, with the Rev. David Russell officiating.
Fricke-Calvert-Schrader Funeral Home in Lincoln is in charge of arrangements.

Ms. Richardson was a well-known area florist. She went into business at Delavan Flowers & Gifts and later worked in various shops in the Delavan, Chillicothe and Lincoln areas. For many years, she traveled with her parents to craft shows that covered a nine-state area.

She was born Nov. 18, 1958, in Lincoln to Robert and Margaret Wibben Conrady.

She is survived by her mother, of Lincoln; one brother, Craig (and Paula) Conrady of New Holland; two sisters, Cindy (and Kevin) Gleason of Hartsburg and Christy (and Jay) Cross of Emden; and nieces and nephews Mark and Ruah Gleason, Amanda Gleason, Matthew Gleason, Andrea Cross, Curtis Conrady, Joshua Conrady, Mitchell Gleason and Adam Cross. Her four kitties, Tabi, Sonny, Mooney and Star, were the love of her in the last few years.

She was preceded in death by her father and maternal and paternal grandparents.

She was baptized and confirmed at St. John's Lutheran Church in Hartsburg.

She attended school at Hartsburg-Emden and graduated from high school in 1976. She attended floriculture vocational school while in high school and a flower design school in Cincinnati, Ohio.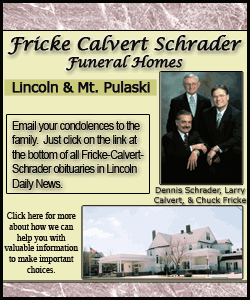 The diagnosis of multiple sclerosis 10 years ago changed the course of Cathy's life and abilities. She took each day as it came and was determined to keep going.
She appreciated lots of the small things in life, such as nature and flowers and a pretty day. She chose to use her natural talents and her love of flowers to give others enjoyment with her handiwork.
She will be remembered for her kind heart and giving spirit. She never hesitated to show her faith.
Memorials may be made to the Cathy Richardson Memorial Fund.
Click here to send a note of condolence to the family of Cathy Richardson.