Send a link to a friend
[December 01, 2008] Nelson Betzelberger, 88, of Lincoln, died Friday, Nov. 28, 2008, at 10:03 p.m. at Abraham Lincoln Memorial Hospital.
Visitation will be 4-7 p.m. Wednesday at Fricke-Calvert-Schrader Funeral Home in Lincoln. His funeral will be at 10:30 a.m. Thursday at the funeral home, with the Rev. Jame Hahs officiating.
Burial will be in Richmond Grove Cemetery, New Holland.
Mr. Betzelberger was a retired West Lincoln farmer.
He was born Nov. 8, 1920, at Emden to Herman and Marie Hilgendorf Betzelberger. He married Helen L. Hawes on Nov. 26, 1942, in Kansas City, Mo. She preceded him in death on March 14, 1999.
He is survived by two sons, Ron (and Jan) Betzelberger of Lincoln and Scott (and Sharon) Betzelberger of Beaverton, Ore.; two daughters, Rita (and Larry) Arnold of Largo, Fla., and Leanne (and Pat) Christenson of Carol Stream; 11 grandchildren; and 16 great-grandchildren.
He was a member of the First United Methodist Church of Lincoln,
He was a former school board member for Burtonview Grade School; West Lincoln School, serving at the time when the school was built; and Lincoln Community High School.
He was a 4-H leader of the Husky Helpers for 27 years.
He was president of the Logan County Farm Bureau for one year, served as president for the Logan County Health Improvement Association for many years, was former chairman of the trustees of Emden United Methodist Church and secretary-treasurer for Methodist Men.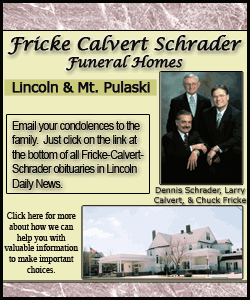 He was an active volunteer and board member of the Lincoln/Logan Food Pantry.
He graduated from New Holland High School.
Memorials may be made to the Lincoln/Logan County Food Pantry.
Click here to send a note of condolence to the Betzelberger family.