Walter Rademaker

Send a link to a friend
[December 02, 2008] Walter N. Rademaker, 96, of Lincoln, formerly of San Jose, died Monday, Dec. 1, 2008, at 7:02 a.m. at The Christian Village.
Visitation will be 4-7 p.m. Thursday at St. Peter Lutheran Church in Emden. His funeral will be at 10:30 a.m. Friday at the church, with the Rev. David Hofer officiating.
Burial will be in Hartsburg Union Cemetery, Hartsburg.
Arrangements are by Fricke-Calvert-Schrader Funeral Home in Lincoln.
Mr. Rademaker was a retired farmer and had been a mechanic at Truman Woll Implement.
He was born July 22, 1912, in Hartsburg to Nanke J. and Bertha Arnold Rademaker. He married Augusta Koehler on Dec. 24, 1935, in Emden. She preceded him in death.
He is survived by one son, Vernon (and Sandra) Rademaker of San Jose; one daughter, Irene (and Joe) Hackett of Emden; three sisters, Josephine Rorabaugh of Liberal, Kan., Ruth Logeman of Emden and Rachel (and Jeane) Woll of San Jose; seven grandchildren; and nine great-grandchildren.
He was also preceded in death by one son, one daughter, two brothers and one grandson.
He was a member of St. Peter Lutheran Church of Emden and the Brotherhood of the church. He had been a Sunday school teacher and church representative for Hartsburg-Emden Boy Scouts. He was also a member of San Jose Lions Club.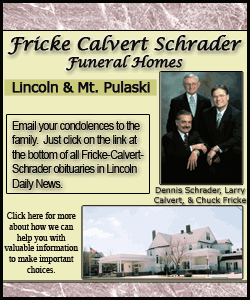 Memorials may be made to The Christian Village or St. Peter Lutheran Church.
Click here to send a note of condolence to the Rademaker family.