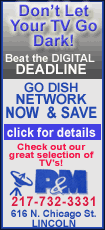 Athletic director Jack Swarbrick did not respond to repeated phone messages and e-mails from The Associated Press on Tuesday night. University spokesman John Heisler declined to address the reports.
"When we have something to say and it's the appropriate time to say it, we'll say it," he said.
Swarbrick had said after the Irish lost 38-3 to USC on Saturday that he would evaluate Weis' performance and planned to meet with the coach on Dec. 8. Swarbrick was on the West Coast raising money and Weis was recruiting, Heisler said.
Weis has seven years left on a 10-year contract signed midway through his first season, but some Irish fans upset by some embarrassing losses had called for his firing. The Irish lost to Navy last season and this season lost to Syracuse when the Orange were 2-8, marking the first loss ever by Notre Dame to an eight-loss team.
Weis has led the team to back-to-back disappointing seasons of 3-9 and 6-6, with the 15 losses the most ever by the Irish in a two-year span. The Irish earned BCS berths in his first two seasons, going to the Fiesta and Sugar bowls.
Weis is 28-21 in four years as Irish coach, a .571 winning percentage. That's slightly worse than his two predecessors, Tyrone Willingham and Bob Davie.