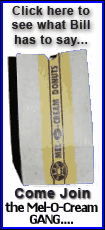 No surprise, then, that the Gators and Sooners were the easy picks despite having one loss each. This pair of power programs with Heisman-worthy quarterbacks and 12-1 records will meet Jan. 8 in Miami for the BCS national championship.
Oklahoma was ranked first and Florida second in the final BCS standings released Sunday. They were flip-flopped in the Associated Press poll, which is not used in determining the BCS, but was used by BCS chairman John Swofford as another way of validating the matchup.
"One of the interesting aspects of where we are, looking at the standings, is that Florida and Oklahoma are one or two in the Harris poll, coaches' poll and even the AP poll, which is not used in the BCS standings," Swofford said.
"You have a consistency there with the human polls on those same two teams," he said.
Including Texas, Southern California, Texas Tech, Penn State and Alabama, there were seven teams with one loss in the BCS' final top 10. Two more -- Utah and Boise State -- finished undefeated.
But only two had resumes like Florida and Oklahoma.
Led by Tim Tebow, the Gators rebounded from their only loss to dominate the next nine games, scoring more than 49 points a game in wins that culminated with a 31-20 victory over Alabama on Saturday for the SEC title.
Sam Bradford was the same kind of force for Oklahoma. The Sooners lost 45-35 to Texas in October, but still ended up with an NCAA-record 702 points this season. They ended the season by becoming the first team since 1919 to score 60-plus in five straight games.
"We beat five ranked teams and three ranked teams as the last three games of the year," Sooners coach Bob Stoops said. "That decided it."
This will mark the first-ever meeting between these two power programs, each seeking their second title of the 2000s.
Florida was an up-and-coming power and Oklahoma was a declining one back in 1998, when Stoops decided to leave his post as Gators defensive coordinator and take his first head-coaching job with the Sooners.
In 2000, he helped Oklahoma to its seventh national title. Still, when Steve Spurrier left Florida a year later, many Gators thought Stoops' return was only a matter of logistics.
Who wouldn't take the sun and fun of Florida over the grit and dust of Norman, right?
Stoops declined, though, saying he had everything a coach could ever ask for at Oklahoma -- nice campus, good boosters, fantastic resources and, yes, even more tradition than they had at Florida.
"I had great memories of my time there and great experiences," Stoops said. "But I had also been making my own here at Oklahoma. I felt so strongly about what we were doing and positive about what we were doing, I wanted to see it through."
He has won six conference championships and this will mark the fourth time he's played for the national title.