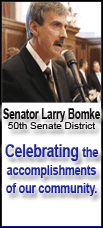 "My coach was like, 'Act like you've been there before, act like you've been there before,'" defensive tackle Darnell Dockett said. "I said 'Coach, I ain't been there before. I don't know how to act right now.'"
Kurt Warner threw for 279 yards, the defense scored twice and the Cardinals clinched the NFC West championship by beating the woeful St. Louis Rams 34-10 on Sunday.
Long the league's doormat franchise with just one winning season in the last 24 years, the Cardinals earned their first playoff berth since 1998 and first divisional title since they won the NFC East in 1975.
As NFC West champions, the Cardinals will host a playoff game for the first time since, as the Chicago Cardinals, they defeated Philadelphia to win the NFL title in 1947.
The players knew enough about celebrating to dump a bucket of ice water on Ken Whisenhunt, who has the team in the playoffs in his second season as coach.
"It was pretty cold, too," Whisenhunt said. "I was excited to get a bath. That's one of the things I guess as a coach you dream about."
Arizona's defense scored both of the team's second-half touchdowns, including a team record-tying 99-yard interception return by rookie Dominique Rodgers-Cromartie with 3:11 to play.
"He looked like a blur," Whisenhunt said.
Arizona (8-5) beat St. Louis (2-11) for the fifth straight time and extended the Rams' losing streak to seven games. After losses to the New York Giants and Philadelphia Eagles, the Cardinals improved to 5-0 against NFC West foes.
Michael Bidwill, the team's president and son of longtime owner Bill Bidwill, raised both fists in triumph as he trotted off the field. In the locker room, players donned T-shirts and hats with "NFC West Champions" emblazened on them.
Bidwill said his father "is very, very happy. This is the first time he's gotten a hat, you know. He likes his hat a lot."
Warner completed 24 of 33 passes against a Rams team he once led to a Super Bowl title. In the process, he reached 347 completions for the season, breaking the Cardinals' record of 345 set by Neil Lomax in 1984.
"If he's not the MVP in the league," Rams coach Jim Haslett said, "I'm sure he's in the top two or three."
Although Warner has no ill will toward the Rams, he did find it interesting the clincher came against his former team.
"My God's got a sense of humor," he said. "Maybe that's part of it."
Warner knows the team has made giant strides since he came to Arizona. He couldn't quite comprehend the significance considering the franchise's long, sorry history that preceded him.
"I was looking at some of the guys in the locker room that this may be their first year here or something, and a lot of guys are whooping and hollering in there," Warner said. "I just had to let them know that they don't know where we've been, just over the four years that I've been here how far we've come."