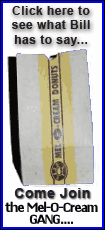 "We're excited. We love San Diego. A lot of our players are from Southern California and this is a great, great matchup with TCU," Boise State coach Chris Petersen said.
Also Sunday, the scoffed-at ACC sent an NCAA-record 10 teams to bowl games, while Mississippi coach Houston Nutt got a chance to go the Cotton Bowl and Notre Dame's Charlie Weis learned he'll be going back Hawaii.
Although Arkansas went to Dallas last season, Nutt resigned in November. Weis has been to the islands twice to woo a high school linebacker into joining the Fighting Irish, who are playing Hawaii in the Hawaii Bowl.
Nutt and the Rebels -- who gave top-ranked Florida its only loss -- will face No. 8 Texas Tech in the final game in the actual Cotton Bowl before the game moves to a shiny, new NFL field.
That send-off for the 1930s-vintage stadium will be one of six non-BCS games between teams ranked in the AP Top 25.
No. 13 Oklahoma State faces No. 15 Oregon in the Holiday Bowl; No. 16 Georgia meets No. 19 Michigan State in the Capital One; No. 22 Northwestern plays No. 25 Missouri in the Alamo; No. 18 Pittsburgh will see No. 24 Oregon State in the Sun; and No. 9 Boise State takes on the 11th-ranked Horned Frogs.
With 34 bowls, 68 of the 119 major college teams will be playing one more game. The only teams that reached the six wins needed for bowl eligibility and didn't get bids were Arkansas State and Louisiana-Lafayette of the Sun Belt Conference.
Boise State was perfect two seasons ago and made the most of it, shocking Oklahoma in a highly entertaining Fiesta Bowl.
Florida State will be making its 27th straight bowl appearance, against Wisconsin in the Champs Sports Bowl. The Seminoles inherit the longest active streak from Michigan, which had its run of 33 in a row came to an end with a 3-9 finish under first-year coach Rich Rodriguez.
In another intriguing matchup between unranked teams, Clemson will play Nebraska in the Gator and Miami will face California in the Emerald Bowl, just across San Francisco bay in the Giants' baseball stadium.
The Golden Bears are one of several teams playing what are essentially home games.
Bowl organizers were more inclined than usual to keep teams close to home because the sagging economy figures to make fans less likely to make long and costly trips to games.