Megan Kissel

Send a link to a friend
[December 22, 2008] Megan Leigh Kissel, 8 years old, went to be with Jesus on Monday, Dec. 22, 2008, at 6:10 a.m. at St. John's Hospital in Springfield.
Visitation will be 5-7 p.m. Friday at Holland Barry and Bennett Funeral Home. Her funeral will be at 11 a.m. Saturday at the funeral home, with Dr. Keith Ray officiating.
Burial will follow in New Union Cemetery.
Megan was a second-grade student at West Lincoln-Broadwell.
She was born Oct. 31, 2000, in Springfield to Thomas and Darla Strohl Kissel.
Surviving Megan are her parents, Tom and Darla Kissel of Lincoln.; her brother, T.J. Kissel of Lincoln; her sister, Kristy Semanik of Springfield; her paternal grandparents, Donald "Gus" and Margaret "Marge" Kissel of Springfield; her maternal grandparents, Daris and Garland Strohl of Clinton; aunts and uncles Jan and Wayne Webb of Clinton, Jim and Tammy Kissel of Chatham, Vickie Strohl of Downs, and Ken and Annette Kissel of Chatham; her nephew, Billy Semanik of Springfield; numerous cousins and friends; and her kitty cat, Daisy Mae.
She was preceded in death by her uncle Ken Strohl of Downs.
Megan was a vibrant young lady who enjoyed swimming, reading, drawing, vacationing with her family, American Girl dolls, leopard print, and was a Hannah Montana and Jonas Brothers fan. She was active at the Lincoln Area YMCA, where she played soccer and tennis. She was also involved in cheerleading and Brownies.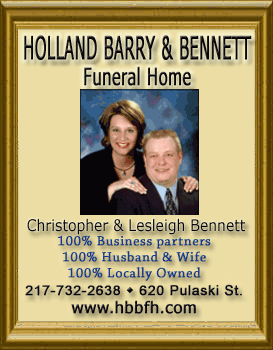 Memorial donations may be made in Megan's name to the Lincoln Area YMCA or to West Lincoln-Broadwell School and will be accepted at the funeral home.
Click here to send a note of condolence to the Kissel family.