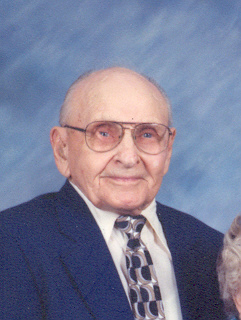 James Zumwalt

Send a link to a friend
[December 22, 2008] EMDEN -- James Robert Zumwalt, 95, of Emden, died Saturday, Dec. 20, 2008, at 2 p.m. at St. John's Hospital in Springfield.
His funeral will be at 10:30 a.m. Saturday at St. Peter Lutheran Church, with the Rev. David Hofer officiating.
Visitation will be 4-7 p.m. Friday at Fricke-Calvert-Schrader Funeral Home in Lincoln and 9:30-10:30 a.m. Saturday at the church in Emden.
Burial will be in Hartsburg Union Cemetery, Hartsburg.

Mr. Zumwalt was a retired farmer.

He was born Dec. 17, 1913, in Emden to Edwin and Clara Suits Zumwalt. He married Helen Klokkenga on Feb. 2, 1952, in Emden.

He is survived by his wife, of Lincoln; one son, Larry A. (and Cathy) Zumwalt of Emden; one daughter, Roberta (and Butch) Hildebrandt of Springfield; one brother, Delmar Zumwalt of Bloomington; two grandchildren, Melinda (and Curtis) Reiners of Hudson and Angie Zumwalt of Hudson; and one great-grandchild, Carter James Reiners of Hudson.

He was preceded in death by three brothers, Paul, Donald and Dean.

He was a member of St. Peter Lutheran Church in Emden and the Brotherhood of the church. He was a past secretary-treasurer of the Emden Elevator.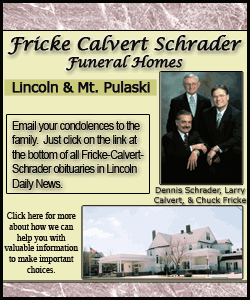 Memorials may be made to St. Peter Lutheran Church or the church's ball diamond.
Click here to send a note of condolence to the Zumwalt family.