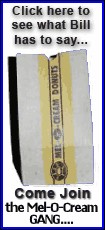 Marinelli didn't answer the question during his news conference, saying it wasn't the right stage for a response, but lashed out after thinking about the exchange.
"Anytime you attack my daughter, I've got a problem with that ..." Marinelli said. "It was premeditated. I think there's something wrong with that."
Did it cross the line?
"Big time," Marinelli said.
Parker attempted to defuse the situation.
"I apologize to Rod and his family," Parker said in a telephone interview after Marinelli's comments were relayed to him. "It was never my intent to hurt anyone. It was just to lighten the moment.
"I wish Rod and his family a very Merry Christmas and a Happy New Year."
The Lions will close the schedule at Green Bay, where they haven't won since 1991, hoping to avoid sealing a perfectly imperfect season.
Parker, who has regularly asked Marinelli about the possibility of firing Barry, tried to explain his relationship with Marinelli in a column published Monday.
"On the surface, you might think it's adversarial," Parker wrote. "He hates me and I hate him. In reality, it's one built on mutual respect.
"Sunday, with my attempt at humor, I was trying to get Marinelli to lighten up, have some fun after a rough day," Parker added. "Who knows, Marinelli, a straight shooter who never goes off script, might actually have given us a funny quote. He didn't. My attempt failed."
It also failed to change Marinelli's perspective or willingness to accept Parker's published apology.
"I didn't read it. I was told a little bit about it," Marinelli said. "I don't accept anything."