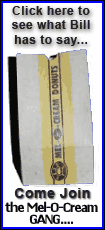 The Chargers won the NFL's weakest division with an 8-8 record, becoming the first team to go from 4-8 to the playoffs by routing the Denver Broncos 52-21 in the Ed Hochuli Bowl on Sunday night.
Mission Valley turned into Mediocre Valley for the evening as the Chargers became the first team to win a division at 8-8 since the Cleveland Browns did it in 1985.
"It was really a playoff game tonight, so we knew we had to win to keep going and that was all we needed," Tomlinson said.
Tomlinson, who didn't return after straining an abdominal muscle in the third quarter, had his first three-touchdown game of the season. Rivers threw his 33rd and 34th touchdown passes to break Hall of Famer Dan Fouts' 1981 team single-season record.
"This is obviously history in they way we trailed the division and now won it," Rivers said. "We all had the expectations to get here. We obviously went a different route than we thought we would. But we're here.
"Chances were slim, but we kept playing hard and fighting just for us to salvage whatever we could salvage."
Denver (8-8) completed a monumental collapse, becoming the first team since division play began in 1967 to miss the playoffs after having a three-game lead with three weeks to go. Needing just one win to wrap up the division, the Broncos lost at Carolina, at home to Buffalo and then to the Chargers.
"Obviously it's not the same football team that started the year," Denver coach Mike Shanahan said. "
The Chargers were 5-1 in the division but 3-7 outside it, and had zero wins against playoff teams. San Diego will host Peyton Manning and the Indianapolis Colts on Saturday night. San Diego upset the Colts in the playoffs last year, but Indy won 23-20 in San Diego on Nov. 23.
"It's always a great game against those guys and it'll be another great game," Rivers said. "You can't ask for anything more in the playoffs."
Denver won the first meeting between the increasingly bitter rivals on Sept. 14 with some last-minute help from referee Ed Hochuli. When the ball slipped from Jay Cutler's grasp and was recovered by Chargers inside linebacker Tim Dobbins, Hochuli ruled it an incomplete pass instead of a fumble. Hochuli later acknowledged his decision was wrong. However, by rule, the call could not be changed and Denver kept the ball. The Broncos scored on fourth down, followed by the winning 2-point conversion.
On Sunday night, the Chargers looked like world-beaters and Tomlinson was far more animated than at any point of the worst year of his otherwise brilliant career.