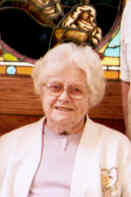 Henrietta Gillard

Send a link to a friend
[December 31, 2008] Henrietta M. Gillard, 92, of Lincoln, died Tuesday, Dec. 30, 2008, at 4:30 p.m. at St. Clara's Manor.
Her funeral will be at 11 a.m. Saturday at Peasley Funeral Home in Lincoln, with the Rev. Jeffrey G. Laible officiating. Visitation will be from 10 a.m. until the service time at the funeral home.
Burial will be in Holy Cross Cemetery.
She was born March 2, 1916, in Lincoln to Barney and Lela Sullivan Malloy. She married James Henry Gillard on June 28, 1946, in Lincoln. He preceded her in death on April 29, 1976.
She is survived by her son, Jerry (and Marie) L. Turner of Lincoln; three sisters, Betty Purdue, Mary Aper and Marge Fitzsimmons, all of Lincoln; five grandchildren; and six great-grandchildren.
She was also preceded in death by one daughter, Odetta Hoffert, and one brother, Bud Malloy.
Mrs. Gillard was a charter member of the Knights of Columbus Auxiliary and a charter member and past president of the Eagles Auxiliary.
Memorials may be made to the activity fund at St. Clara's Manor.
Click here to send a note of condolence to the Gillard family.