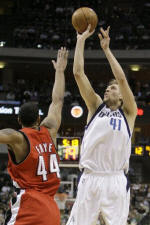 Dirk Leads Mavs Past Kidd Talk, Blazers

Send a link to a friend
[February 14, 2008] DALLAS (AP) -- Dirk Nowitzki scored a season-high 37 points and Jason Terry added 24, helping the Dallas Mavericks put aside talk of whether Jason Kidd is about to become their teammate and beat the Portland Trail Blazers 96-76 on Wednesday night.
The Kidd trade hit a snag because Dallas' Devean George opted out of it. He doesn't have a no-trade clause, but has the equivalent -- a provision in the collective bargaining agreement known as "early Bird rights," which he can protect by not consenting to any deal.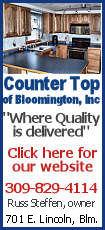 George started because of an injury to Josh Howard -- and went 0-for-11. He had no points, four rebounds and two assists in 33 minutes.
The Mavericks had lost their last two games, blowing early 10-point leads with awful second halves each time. They made sure that didn't happen again, holding Portland to 33 points in the final two quarters on their way to a 10th straight home win.
Brandon Roy scored 25 points for Portland, which goes into the All-Star break having lost four straight and six of eight. Still, the Trail Blazers may use their down time over the next week to savor going 28-24 so far after winning only 32 games all last season.
In addition to Howard's absence because of a back injury, Dallas also was without starting point guard Devin Harris (ankle) and key reserve Jerry Stackhouse (hamstring). A bigger distraction was talk that Harris and Stackhouse were part of a deal that would bring Kidd from New Jersey in a deal that also would include George and reserves DeSagana Diop and Maurice Ager.
Judging by homemade signs, fans were against the deal. One wrote "No Trade, No Kidding," and a section over, there were signs saying "Keep Harris," with a heart dotting the i; another read, "Stop KIDD'n around Cuban!" with faces of three players Dallas would deal below it. Under one basket, though, a poster read, "Welcome Back Kidd."
Ignoring it all, Nowitzki got things rolling with 13 points in the first quarter and 20 by halftime. He finished 13-of-26, with a pair of 3-pointers and nine free throws. He also had 12 rebounds.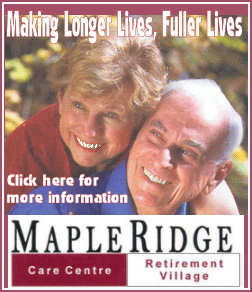 Terry, who has been in and out of the starting lineup since Harris went down, was 10-of-19. J.J. Barea scored 11 points and Erick Dampier had 10 points and 11 rebounds.
The Mavericks led 54-43 at halftime. Coach Avery Johnson certainly reminded them of their recent second-half woes during the break and they came out focused enough to limit Portland to 16 points in the third quarter. With 17 in the fourth quarter, the Blazers wound up with their second-lowest total of the season.
Portland's LaMarcus Aldridge, who grew up in the area, scored six points, ending his run of three straight 20-point games. Steve Blake and Travis Outlaw were the only double-digit scorers besides Roy, each having 13 points.
Notes: The Mavs did make one player move Wednesday, recalling rookie forward Nick Fazekas from the NBDL. He averaged 19.1 points and 9.9 rebounds in 28 games for Tulsa. He played 3 minutes and scored a basket. ... The Blazers were 3-of-9 on 3-pointers, a slight improvement from their recent woes behind the arc. They went 5-for-27 over the previous three games. ... Nowitzki had blood on his jersey midway through the fourth quarter, forcing him to change into a new one -- much to the delight of shrieking women in the crowd. Giggles and snickers filled the arena for several seconds. Maybe he noticed; his only miss from the line followed. ... Johnson got his 100th home win.
[Associated Press; By JAIME ARON]
Copyright 2007 The Associated Press. All rights reserved. This material may not be published, broadcast, rewritten or redistributed.