Customer service reps needed. Green company expanding globally. Part-time positions available. You will be verifying addresses. Must have telephone, computer and Internet. www.gogreen4income.com.

Send a link to a friend
---
---
Phone, computer and sales skills a must. Photoshop skills helpful, but not necessary. Send e-mail resume to ldn-box_264@lincolndailynews.com or mail to Lincoln Daily News, c/o Box 264, 601 Keokuk St., Lincoln, IL 62656.

Send a link to a friend
---
Do you love children and think you are a positive role model? Do you have patience, time and space in your home? Catholic Charities of the Diocese of Peoria located in Lincoln is accepting applications for foster families to care for children, some with exceptional needs. Many of these children have developmental delays and/or behavior disorders. They would be provided counseling and/or other services, as needed. We provide training, licensing and continuing support services. We also provide financial reimbursement to help care for the child(ren). If you can provide nurturing care, involvement, supervision and a stable home environment, please call the licensing/resource worker, at 217-732-3771.

Send a link to a friend
---
Part-time courier opportunity. Danbred North America is seeking a dependable, customer-oriented individual to deliver product to new and existing customers in central Illinois area. Must have a valid driver's license with a excellent driving record. Delivery vehicle will be provided. For more information, please contact Deb Augustine, 3220 25th St., Columbus, NE 68601; phone 800-844-4874; debaugustine@danbredna.com.

Send a link to a friend
---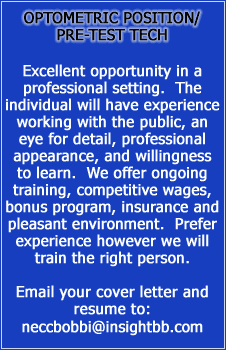 ---
Senior Patient Care Manager
Bloomington-Normal Carle Clinic Association
This professional will be responsible for streamlining operations to ensure excellent patient care, collaborating efficiently with physicians and staff, and performing project and fiscal management. Qualifications: Bachelor's degree and clinical background preferred. Experience in surgical practice or ambulatory care program required. Competitive salary and comprehensive benefits package included. Qualified applicants: Apply online at www.carle.com or to Carle Clinic Association, Human Resources Services, 602 W. University Ave, Urbana, IL 61801. EOE M/V/F/D

Send a link to a friend
---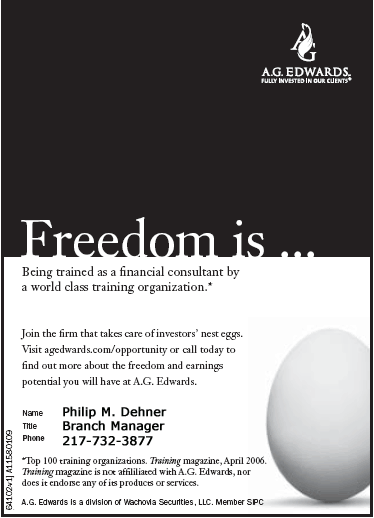 ---
City of Lincoln, Illinois
Seeking Applications for the Full-Time Fire Chief Position
with the City of Lincoln, IL
Only candidates with a State of Illinois Fire Marshal's certification of Fire Officer 2 or above, with a Bachelor's Degree or an Associate's Degree in Fire Science need apply:
Your resume

Listed qualifications and dates certified via qualification with the State of Illinois Fire Marshal's Office

Work experiences and dates

List of five references, complete with addresses, telephone numbers, and e-mail addresses

Reason(s) for wanting the position

Desired salary range and benefits package

Short paragraph on your management style

Must be willing to relocate and live within 10 miles of Lincoln, IL city limits
Please forward the above resume packet to:
Mayor Elizabeth A. Davis-Kavelman
City of Lincoln
700 Broadway St.
Lincoln, IL 62656
Or e-mail resume packet to: mayorbethdavis@yahoo.com
The deadline to apply for this position is Feb. 29, 2008.
The City of Lincoln, IL is an Equal Opportunity Employer.

Send a link to a friend
---
Making a Difference at The Christian Village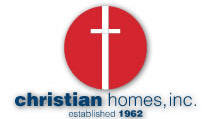 We are looking for enthusiastic, energetic and outstanding individuals to provide compassionate care to our residents. Our seniors need capable hands and hearts of those willing to make a difference.
LPN
FT or PT, 3-11 p.m.
Sign-On Bonus
CNA
FT or PT
6 a.m.-2 p.m. and 2-10 p.m.
Send resumes or apply in person at:
THE CHRISTIAN VILLAGE
1507 Seventh St.
Lincoln, IL 62656
E-mail: careers@christianhomes.org
Fax: 217-735-8686
Another Quality Christian Homes Senior Care Community
www.christianhomes.org
EOE M/F/D/V

Send a link to a friend
Are you underemployed? Thinking about a new career? Here's your chance to make a change! MWCI, an area leader in machining, welding and tube bending, is seeking highly motivated individuals for second and third shift positions. Openings currently exist for:
Experience preferred, but we are willing to train the right people. In addition to our attractive benefit plan, we offer a competitive hourly rate. Qualified applicants apply at: MWCI, 70 Commerce Dr., Morton, IL or e-mail opportunities1@mortonwelding.com.