Kenneth Knowles

Send a link to a friend
[February 22, 2008] Kenneth W. Knowles, 86, of Lincoln died Tuesday, Feb. 19, 2008, at 11:45 a.m. at St. Clara's Manor.
Visitation will be from 4 to 7 p.m. Monday at Fricke-Calvert-Schrader Funeral Home in Lincoln. Masonic rites will be at 6:45 p.m., and all master Masons are invited to attend. His funeral will be at 10 a.m. Tuesday at the funeral home, with the Rev. Richard Reinwald officiating.
Burial, with military rites, will be in Irish Grove Cemetery, Middletown.

Mr. Knowles worked for the International Silver Co. in Meriden, Conn. He also farmed, butchered and worked at Caterpillar in Peoria.

He served in the U.S. Army from 1944 to 1946, during World War II.

He was born Dec. 9, 1921, in Menard County to Lorenza Dow and Josie Gibbs Knowles. He married Clarice Nevin Gade on Oct. 18, 1947, in Meriden, Conn. She preceded him in death on March 21, 2000.

He is survived by two sons, Lawrence Knowles of Springfield and George Knowles of Lincoln; one daughter, Karen (and David) Lindsey of Effingham; three grandsons; one granddaughter; and two great-grandchildren.

He was also preceded in death by three brothers, Loren, George and Raymond. He was the last of his immediate family

He was a member of the Middletown Presbyterian Church and He was also a member of American Legion Post 263.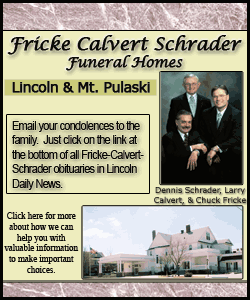 He was very active in the Masonic bodies, serving as past master and a member for more than 50 years of Lincoln Masonic Lodge 210, past patron of Order of Eastern Star Flower City Chapter 152, past royal patron of Springfield Court 8 Order of Amaranth and a member of Valley of Springfield Ancient Accepted Scottish Rite. He received the Grand Cross of Color International Order of the Rainbow for Girls.
Memorials may be made to Diabetes of Illinois via the Supreme Council Order of Amaranth or Masonic Trust Fund of Lincoln.
Click here to send a note of condolence to the Knowles family.