January 2008

Send a link to a friend
---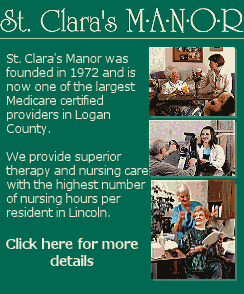 Wednesday, Jan. 9
"Meet the Candidates" forum
WHO: Public
WHERE: Logan County Health Department, Conference Room B
WHEN: 7:30 am
Tuesday, Jan. 15
AITP meeting
SPONSOR: Capitol Chapter Association of Information Technology Professionals
WHO: AITP members and open to public
DETAILS: Speaker will be Shawn Travers from Microsoft. Meal with the program. Fee. Reservations required: 217-785-6812 or www.aitpcapitol.org.
WHERE: Northfield Center, Springfield
WHEN: 5:30-6 pm registration; 6-8 pm meeting
Saturday, Jan. 19
Teddy Bear Picnic
SPONSOR: Lincoln Public Library
DETAILS: Advance reservations needed before Jan. 17. Call 732-5732.
WHERE: 725 Pekin St.
Chili lunch
SPONSOR: Humane Society of Logan County
WHO: Public
DETAILS: Chili, drink and dessert. Hot dogs. Help raise money to build an animal shelter in Lincoln. (More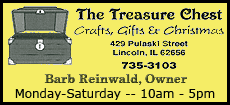 information)
WHERE: Lincoln Community High School
WHEN: 11 am-2 pm
Monday, Jan. 21
Presentation: "Abraham Lincoln in Indiana"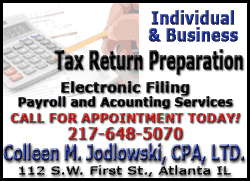 SPONSOR: Logan County Genealogical and Historical Society
WHO: Community invited
DETAILS: Paul Gleason, speaker
(See article.)
WHERE: 114 N. Chicago
WHEN: 6:30 pm