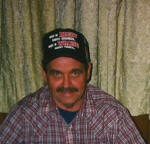 Tommy Poe

Send a link to a friend
[January 14, 2008] Tommy Poe, 57, of Lincoln died Saturday, Jan. 12, 2008, at St. John's Hospice in Springfield.
His funeral will be at 1 p.m. Thursday at Holland Barry and Bennett Funeral Home, with the Rev. Winfield Poe officiating. Visitation will be one hour prior to the service.
He was born Dec. 8, 1950, in Springfield to Joseph Poe and Wilma McAuley-Poe. He married Susan Trowbridge on June 1, 2006, in Lincoln.

He is survived by his wife, Susan of Lincoln; one son, Aaron Poe of Lincoln; one sister, Darlene of Indiana; and two grandchildren, Jade and Randy Poe, both of Lincoln.

He was preceded in death by his parents, one brother and one sister.

Memorial donations may be made to the family and will be accepted at the funeral home.