Marshall Leich

Send a link to a friend
[July 09, 2008] Marshall W. Leich, 91, of Lincoln, died Tuesday, July 8, 2008, at 9:28 p.m. at St. Clara's Manor.
His funeral will be at 10 a.m. Saturday at Fricke-Calvert-Schrader Funeral Home, Lincoln, with the Rev. Richard Reinwald officiating. Visitation will be from 9 to 10 a.m. at the funeral home.
Burial will be in Zion Cemetery.

Mr. Leich was a retired insurance agent from Country Life Insurance Co.

He was born March 16, 1917, in St. Louis, Mo., to Fred and Lucilla Kendall Leich. He married Amanda Wallrath on April 13, 1940, in St. Louis.

He is survived by his wife; three sons, Marshall (and Tena) Leich of Claremont, Fla., Gary (and Jeanne) Leich of Lincoln and Jack (and Nancy) Leich of Lincoln; one sister, Ethel Jackson of St. Louis, Mo.; four grandchildren, Ami (and Les) Pitzer of Ohio, Tim (and Cyndi) Leich of Tremont, Jennifer (and Doug) Brickey of Lincoln and Jackie (and Jeff) Curry of Lincoln; and five great-grandchildren, Justin Brickey, Lane Brickey, Brady Curry and Jake Curry, all of Lincoln, and Drake Leich of Tremont.

He was a member of St. John United Church of Christ and the Brotherhood of the church. He was also a Kiwanis member.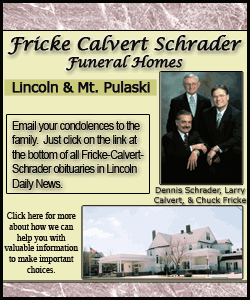 Memorials may be made to Memorial Home Services Hospice, St. Clara's Manor or St. John United Church of Christ.
Click here to send a note of condolence to the Leich family.