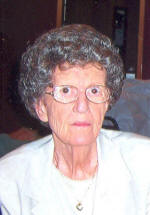 Helen Sank

Send a link to a friend
[July 11, 2008] Helen L. Sank, 75, of Lincoln, died Thursday, July 10, 2008, at 9:45 a.m. at St. Clara's Manor.
Visitation will be from 2 to 4 p.m. Sunday at Fricke-Calvert-Schrader Funeral Home in Lincoln.
Her funeral will be at 10:30 a.m. Monday at Zion Lutheran Church of Lincoln, with the Rev. Mark Thompson officiating.
Burial will be in New Union Cemetery, Lincoln.

Mrs. Sank retired after 30 years of employment in state of Illinois mental health service and Logan Correctional Center dietary.

She was born Sept. 11, 1932, in Logan County to John Roy and Edith McCrea Mayberry. She married Donald E. Sank on Nov. 25, 1954, in Springfield. He preceded her in death on Aug. 25, 2005.

She is survived by two sons, Randall (and Roseann) Sank of Lincoln and John (and Joyce) Cunningham of Lake of the Ozarks, Mo.; one daughter, Rebecca (and Tom) Thiel of Fort Morgan, Colo.; one brother, Jack Mayberry of Atlanta; a sister-in-law, Judy Vincent of Lincoln; eight grandchildren, John R. Cunningham, Ty Sank, Jimmy Babbs, Monica McAfee, Veronica Randell, Christal Becker, Brooke Hosier and Britteney Thiel; six great-grandchildren, Chase McAfee, Joey McAfee, Grace Randell, Grant Becker, J.T. Becker and Keegan Thiel; and several nieces and nephews, including Judy (and Dennis) Colaw of Atlanta.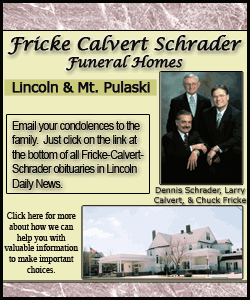 She was also preceded in death by her parents; three brothers, Jimmy, Bob and William Mayberry; and one sister, Ruth Mayberry.
She was a member of Zion Lutheran Church of Lincoln, Veterans of Foreign Wars Auxiliary and American Legion Auxiliary.
Memorials may be made to Memorial Home Services Hospice, Zion Lutheran Church of Lincoln or the donor's choice.