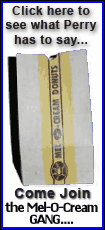 The mayor said that Dalpoas called her last week to ask for her endorsement. She said that she felt that it would be best if the endorsement would come from the council.

Dalpoas is scheduled to attend the council's business session on July 21 to explain what is planned and to answer questions. The meeting begins at 7:15 p.m.

2008 appropriations discussed

The finance committee met prior to the business session on Monday to discuss the 2008 appropriations.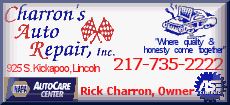 The new fire chief, Kent Hulett, had a lot of questions about what was budgeted for his department and how to manage for the year, particularly with two vehicles currently needing maintenance and repairs. He wanted to know what would happen if there were a major disaster that would push the department over budget.
You can't go over the budgeted amount of a department, Alderman Buzz Busby said.
Some of the current vehicle repairs were already budgeted. In addition, departments are allowed to shift their line items to keep within budget.
Also discussed were security improvements at City Hall and a citywide cleanup.
$25,000 needs to be kept available to meet possible grant funding for building improvements that would add security for City Hall employees during the day and for city meetings in the evenings.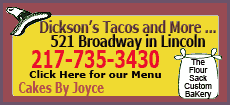 $5,000 would be added to foot the cost of a citywide cleanup. Details are yet to be determined, but one possibility discussed was that the city would rent dumpsters, and citizens would be allowed to bring their unwanted goods -- basically any appliance that would not pose an environmental hazard, such as TVs, couches, water heaters and more -- to leave at the landfill on set days at no charge or at a small fee, such as $2 or $3.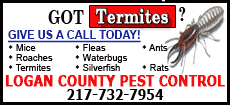 Heritage Days successful
In 2009 it will be the 200th birthday celebration of Abraham Lincoln, for whom the city is named. This year's Heritage Days offered three days of activities, many that emphasized our connection to Abraham Lincoln.
It was noted that there were a lot of people from out of town here for Heritage Days. Plenty of activities offered a lot of fun.
Downtown was hopping for three days and nights. Activities took place in both parks and on the streets. It all began on Thursday afternoon at 4 p.m. with the dedication of a new kiosk, located on the Logan County Courthouse grounds. The kiosk features Abraham Lincoln information and tour sites.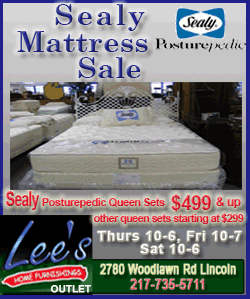 The evening continued with an ice cream social and re-enactments by an Abraham Lincoln impersonator in Latham Park. Other weekend activities included a car show, a flea market and the ever-popular children's parade. There were bands, dancing in the streets and food in the evenings.
The Lincoln Park District hosted water games and a great fireworks display on the Fourth of July.
Alderwoman Marty Neitzel complimented the beautiful fireworks.
The mayor heard some comments about the city spending money on the festivities and wished to clarify that there are a lot of sponsors that help with fireworks and other festivity costs.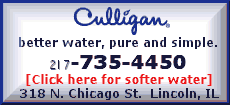 As far as problems related to the holiday festivities, Lincoln Police Department Deputy Chief Mike Geriets said that there were no incidents or criminal arrests over the weekend related to the festivities downtown. A couple of people were asked to leave as a precautionary measure, and they did so without a problem, he said.
The mayor attributed the presence of good community spirit and the volunteer security provided by the fire and city clerk's departments as helping make the weekend go smoothly.
The streets department always plays a major part in helping with the festivities also.
Lincoln Heritage Days was designed to lead up to next year's local bicentennial events. As the only city named for Lincoln before he became president, Lincoln, Ill., has a right and obligation to "Live the Legacy."
[By JAN YOUNGQUIST]
Related information
ALMH 2010
Board Recommends Replacement Facility
Past related articles
Pictures