James Tripplett

Send a link to a friend
[July 28, 2008] MIDDLETOWN -- James Thomas Tripplett, 65, of Middletown, died Saturday, July 26, 2008, at his home, surrounded by his family.
Visitation will be from 5 to 7 p.m. Tuesday at Holland Barry and Bennett Funeral Home in Lincoln. His funeral will be at 11 a.m. Wednesday at the funeral home, with the Rev. Rich Reinwald officiating.
Burial will follow in Irish Grove Cemetery.

Mr. Tripplett was a self-employed carpenter for many years.

He was born Aug. 24, 1942, in rural Middletown to Otis and Jessie Beeler Tripplett. He married Linda Osborne on June 14, 1968, in Lincoln.

He is survived by his wife, of Middletown; three daughters, Debbie (and Aaron) Johnson of Latham, Donna (and Mike) Mosier of Lawrenceville and Serena Tripplett of Middletown; two sons, Otis (and Terri) Tripplett of Middletown and Tony (and Susan) Tripplett of Roby; nine grandchildren: Michelle, Megan and Seth Johnson, all of Latham, Bret Tripplett of Lincoln, Nicole Tripplett of Middletown, Eric and Amanda Mosier of Lawrenceville, and Amber Tripplett and Karla Cambron, both of Roby; two great-grandchildren, Mark and Allison Cambron of Roby; three sisters, Joy Stone of Lincoln, Rose Szabrowicz of Jasper, Alaska, and Marilyn Bell of Mason City; and two brothers, Ivan Tripplett and John Tripplett of Middletown.

He was preceded in death by his parents, an infant brother and sister, and a very special aunt and uncle, Lyman and Myrtle Swille.

He was a member of the Middletown Presbyterian Church. He was an honorary member of the Middletown American Legion.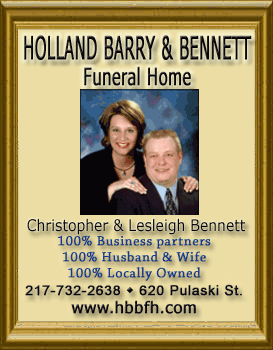 James was an avid race fan. His favorite race car driver was his grandson, Bret. He loved to work with his hands. One of his favorite activities was taking his dogs for truck rides. He was a strong, gentle, wonderful man who will be missed by his family and friends.
Memorial donations may be made to Middletown Fire and Rescue and will be accepted at the funeral home.
Click here to send a note of condolence to the Tripplett family.