Lincoln Daily News
welcomes letters of appreciation, information and opinion on matters pertaining to the community.
As a community we need to be able to talk openly about matters that affect the quality of our lives. The most effective and least offensive manner to get your point across is to stick to the issue and refrain from commenting on another person's opinion. Letters that deviate from focusing on the issue may be rejected or edited and marked as such.
.
You may also send your letters by e-mail to ldneditor@lincolndailynews.com
or by U.S. postal mail:
Letters to the Editor
Lincoln Daily News
601 Keokuk St.
Lincoln, IL 62656
Letters must include the writer's name, telephone number, and postal address or e-mail address (we will not publish address or phone number information). Lincoln Daily News reserves the right to edit letters to reduce their size or to correct obvious errors. Lincoln Daily News reserves the right to reject any letter for any reason. Lincoln Daily News will publish as many acceptable letters as space allows.
Rhonda Hawkins, the mother of Billy Ray Eskew, contacted LDN to make her appreciation known to the community. She wishes to let everyone know how much she appreciated their help, kindness and sympathy during a most trying time.
The mother of the youth who died under tragic circumstances on May 26 wanted to communicate to the community before returning to Iowa. "I really don't know what to say. I am so very grateful to everyone who helped look for my son," she said.
She named the Logan County Emergency Management Agency, the Department of Natural Resources, the Logan County Sheriff's Department and the Red Cross; however, she wanted to express her gratitude to everyone involved in the search: "There were so many people involved in the search from so many communities, and I couldn't even begin to name everyone I want to thank."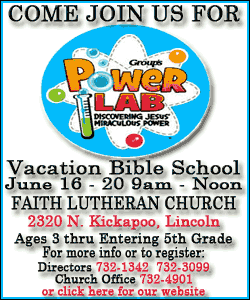 Hawkins stated she truly appreciated the fact that searchers didn't give up and went over areas twice. "I also want to thank everyone who donated food and drinks to the search members, and just everyone who was so kind to us," she said.
She wanted everyone to know she would remember them as she continues to cope with her loss. "To all those people, many who I don't know, who said they would keep my son and our family in their prayers, I want them to know they are all in my prayers."
[Posted June 14, 2008]
Click here to send a note to the editor about this posting.
(Obituary)