Delores Bailey

Send a link to a friend
[June 26, 2008] Delores A. Bailey, 81, of Lincoln, died Monday, June 23, 2008, at 9:35 p.m. at Abraham Lincoln Memorial Hospital.
Visitation will be from 4 to 7 p.m. Friday at Fricke-Calvert-Schrader Funeral Home in Lincoln. Her funeral will be at 10:30 a.m. Saturday at the funeral home, with the Rev. Daniel Tuhy officiating.
Burial will be in Zion Cemetery.

Mrs. Bailey retired in 1989 from Lehn & Fink, where she worked in silk screening. She also worked in the circulation department at the Lincoln Courier.

She was born Oct. 27, 1926, in Lincoln to Gottlieb H. and Lillian Maaks Roehm. She married George V. Bailey on April 9, 1944, in Lincoln. He preceded her in death on Feb. 3, 1983.

She is survived by two sons, Larry (and Sandy) Bailey of Lincoln and Dan Bailey of Lincoln; one daughter, Carolyn "Toots" Fults of Springfield; five granddaughters, Kimberly (and Rick) Freer of Athens, Angela Fults of Springfield, Amber Fults of Chicago, Pamela (and John) Mays of Wentzville, Mo., and Laura (and Keith) Brewer of Wentzville, Mo.; and three great-grandchildren, Bailey Fults Peterman of Athens, Bryce E. Fults of Springfield and Delaney A. Mays of Wentzville, Mo.

She was also preceded in death by two sisters, Gwen Robinson and her twin sister, Ladores Matheny.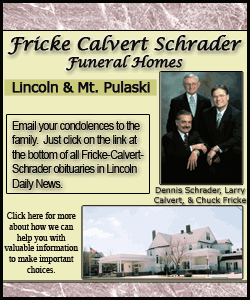 She was of the Lutheran faith.
Memorials may be made to the American Cancer Society.
Click here to send a note of condolence to the Bailey family.