Her body will be cremated, and at "Gram's" request, there will be no services. Arrangements are by Fricke-Calvert-Schrader Funeral Home in Lincoln.

Mrs. Mears and her husband farmed in Illinois and also for a couple of years at Madison, Mo. She also worked at a garment factory in Clinton, the defense plant in Illiopolis, at Lucas and Farmer grocery store, and for the state of Illinois, first in the pharmacy at the state school in Lincoln and then in the sewing room at the "farm" at Springfield.

She was born May 17, 1908, at Cresco, Iowa, to Albert and Amy Ella Craft Hunter. She married Homer Mears on Nov. 24, 1921, in Cresco. He died in 1981.

She is survived by one son, Eugene (and Jeanne) Mears of Decatur; two grandchildren, Lynda (and Mark) Keever of Elmhurst and Michael (and Melissa) Mears of Mount Zion; five great-grandchildren, Heather and Erin of Chicago, and Josh, Amanda and Morgan of Decatur; and three great-great-grandchildren, Mason, Josh and Jaydon of Decatur.

She was also preceded in death by two sisters, Manchile and Elsie, and one brother, Basil, all of Iowa. She was the last of her immediate family.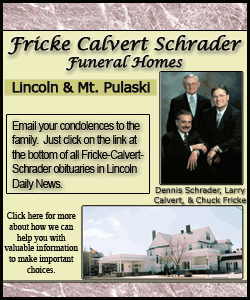 When she retired, she was invited to play pinochle, which became her real joy. Her granddaughter remembers making mini apple pies with Gram, and dressing up in old clothes and jewelry. Her grandson remembers tractors.
The family thanks the staff at St. Clara's Manor for the loving care and concern Gladys received during her stay there: "We couldn't have asked for better."
Memorials may be made to The Oasis senior center, where Gladys, or "Dolly," as she was known to many, spent many enjoyable times playing pinochle.
Click here to send a note of condolence to the Mears family.