Lincoln Daily News
welcomes letters of appreciation, information and opinion on matters pertaining to the community.
As a community we need to be able to talk openly about matters that affect the quality of our lives. The most effective and least offensive manner to get your point across is to stick to the issue and refrain from commenting on another person's opinion. Letters that deviate from focusing on the issue may be rejected or edited and marked as such.
.
You may also send your letters by e-mail to ldneditor@lincolndailynews.com
or by U.S. postal mail:
Letters to the Editor
Lincoln Daily News
601 Keokuk St.
Lincoln, IL 62656
Letters must include the writer's name, telephone number, and postal address or e-mail address (we will not publish address or phone number information). Lincoln Daily News reserves the right to edit letters to reduce their size or to correct obvious errors. Lincoln Daily News reserves the right to reject any letter for any reason. Lincoln Daily News will publish as many acceptable letters as space allows.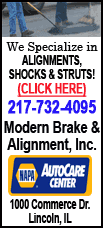 Letter to captains for Relay For Life of Logan County:

Are you all getting your teams ready for the Relay For Life this year? I hope so. It's looking more and more like it will be a great year for us. The committee leaders have pulled together, and several captains have joined those committees to help us through a challenging year. Thanks so much to all of you for your help and support so far this year!

We still have a couple of weeks to go on this journey though, so I wanted to give you some highlights from our previous captains' meetings to help you communicate with your teams, in case any of you have missed anything. Here are the items to remember: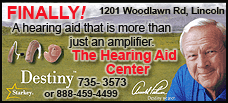 Dates to remember:
May 14 -- Relay Day at Culver's. Culver's donates 10 percent of its proceeds for the day (10:30 a.m.-10 p.m.) to the Relay For Life of Logan County.

May 15 -- Bank Night at Regions Bank in Lincoln. T-shirts will be handed out at that time.

May 17 and 18 -- Relay For Life, 11 a.m.-1 a.m. at Lincoln Christian College.

May 18 -- Post-relay brunch at Lincoln College, with all proceeds going to the American Cancer Society ($8/adults; $4/children). Pre-sales of tickets are occurring now.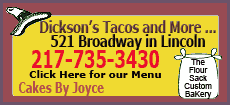 Pre-relay info:
Each team is encouraged to bring a silent or live auction item or basket to City Hall before May 17 or on the day of the relay to Lincoln Christian College

Encourage team members to turn in luminaria forms early to allow time for getting all of the names written on the bags.

Brunch tickets are available at the team captains' meetings for pre-sale purposes. See Ellen Barmes.

If you have any people that you would like added to the survivors list, please get that information to Susan Gehlbach, or e-mail me back at this e-mail address (dennis.cooley@insightbb.com).

Please, register your team online, if possible, at our website: www.relayforlifelogan.com.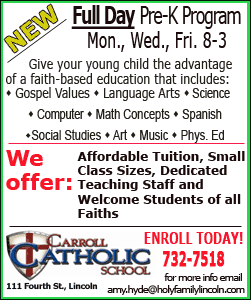 Relay info:
Team campsite themes are encouraged on the day of the relay. Prizes will be given for first and second place. Look at the website for thought-starters.

Teams are encouraged to do any on-site fundraisers that they'd like.

Tamara Dietrich will be developing a list of the laps that we will do each hour of the relay.

Relay day schedules are being developed and will be made available at team captains' meetings.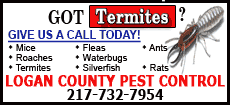 If any of you have any questions about the Relay For Life of Logan County, please attend the captains' meetings or feel free to e-mail or call me. I would be glad to get your questions to the right person.
Thanks so much for all that you do! You truly make a difference!!
Debbie Cooley
Relay For Life of Logan County
Team recruitment chair
[Posted May 12, 2008]
Click here to send a note to the editor about this letter.