His funeral will be at 11 a.m. Saturday at Trinity Episcopal Church in Lincoln, with Father James Cravens officiating. Visitation will be from 10 a.m. until the time of the service.

Burial will be in Old Union Cemetery, Lincoln.

Holland Barry and Bennett Funeral Home in Lincoln is handling arrangements.

Mr. Scully and his wife ran an organic farm in Buffalo, Ill., until 1984, when they joined the Springfield community. He was president of the Union Station Foundation, a not-for-profit charity organization that supports the Elijah Isles House Foundation, the Abraham Lincoln Foundation, Southwind Park, the Lincoln Land Community College Scholarship Fund, the American Field Service and the Lincoln Public Library System.

He served with his brother, Peter, in the U.S. Army from 1951 to 1953, during the Korean War.

He was born May 24, 1926, in London, England, to Thomas A. and Violet M. Simpson Scully. He married Jean Scheckler of Racine, Wis., in 1955. She died in 2007.

He is survived by his daughter, Paula Alyce Scully; his sons, Thomas Peter Scully, Michael James (and wife Nanchen) Scully and John Frederick (and wife Tammy) Scully; his brother, Peter D. Scully (and wife Olivia); his mother-in-law, Mrs. Albert Scheckler; and seven grandchildren.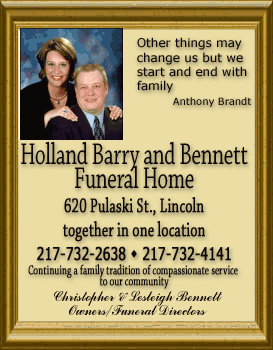 He graduated from Harvard University. At Harvard, he was beneficiary of the post-war rule and rowed No. 4 as a freshman and at bow for the next three years to become the first man in four decades to win the major "H" in crew four times. His services contributed to the "Golden Era" when Harvard shells were victorious from coast to coast. He also lettered in Harvard soccer.
He was honored last year by the American Field Service for his outstanding support of global community and his knowledge and skills used to create a more just and peaceful world.
In lieu of flowers, memorial donations may be made to American Field Service or the Union Station Foundation.
Click here to send a note of condolence to the Scully family.