Lincoln Christian College Angels reach semifinals

Send a link to a friend
[November 15, 2008] OMAHA, Neb. -- The Lincoln Christian College Angels reached the semifinals in the NCCAA Division II National Championship volleyball tournament being held in Omaha, Neb., by winning both of their matches on Friday.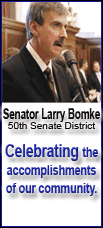 LCC will meet Grace University in one semifinal Saturday morning, while Clearwater Christian College will be taking on Manhattan Christian College. The winners will square off for the national championship at 3 p.m. Saturday.

In the first match on Friday, LCC defeated Southeastern University in three games 25-21, 27-25, 25-21. Krystine Schnautz showed her power in recording 20 kills, seven digs and three blocks; ably assisted by Jamie McFadden with 15 kills, three digs and four blocks; Adriane Tschantz with four kills, two digs and eight blocks; and Nicki Wingfield with five kills, two digs and nine blocks. Megan Donnelly did a great job of setting up the front line with 42 assists, and Jessica Schroeder turned up 20 digs.

In the second contest of the day, the Angels avenged an early season five-game loss to Manhattan Christian College by defeating them in four games 25-21, 25-14, 22-25, 25-23. The Angels were led by Schnautz with 26 kills, 12 digs and eight blocks; McFadden with 12 kills, one assist and three digs; Tschantz with 10 kills, nine digs and six blocks; and Wingfield with eight kills, one assist, three digs and eight blocks. Donnelly again excelled with 52 assists, and Schroeder contributed 31 digs.

Coach Jason Farr said: "I was very pleased again the way the ladies played together and how they kept constant pressure on the opponents throughout the day. In the last game we were down 23-21 and scored the final four points to claim the victory. I am looking forward to Saturday's contests, hoping to bring a national title back to Lincoln for the third time in 11 years."
The LCC Angels were national champions in 1998 and 2003.
[Text from file received from Jack A. Getchel, LCC sports information director]