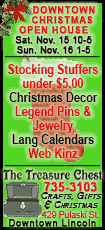 While Williams is already part of the good-natured ribbing that goes on between teammates in the locker room, the receiver hasn't yet made an impact on the field for the Cowboys. But he really hasn't had that opportunity since being traded from the winless Detroit Lions.
"I felt like it was time when I first stepped foot in here," Williams said. "I think they are still trying to figure me out, trying to figure out what I can and can't do."
The Cowboys acquired him to line up opposite Terrell Owens. They have already given Williams a $45 million, five-year contract extension with the expectation that he will eventually succeed T.O. as the No. 1 receiver and top target for Tony Romo.
But a month after arriving, Williams has three catches for 38 yards and a touchdown in three games. And he hasn't caught a pass yet from Romo, who missed all of those games with a broken pinkie.
There have been only seven passes thrown his way, and Williams has been on the field only for passing downs and inside the 20. That has frustrated Williams, who believes he could know his assignment on virtually any play after time to learn the Cowboys' offensive schemes.
"Is Texas Tech undefeated?," Williams quipped, referring to Texas' last-second loss two weeks ago that led to the sweat shirt from former Tech linebacker Zach Thomas. "I can do whatever they tell me to do. I am just waiting on my turn."
His wait will apparently end Sunday night, when the Cowboys (5-4) play a vitally important game at NFC East rival Washington. Romo returns to the lineup and Williams has been elevated to starter opposite T.O., making Patrick Crayton the No. 3 receiver.
The Cowboys completed the trade for Williams only minutes before the NFL trading deadline, getting Detroit's 2004 first-round pick in exchange for three draft picks, including first- and third-rounders next April.
"My expectations were that he would have an immediate impact and we would get this season out of him," Cowboys owner Jerry Jones said this week.
"I thought it would come quicker just because of his presence out there on the other side of Terrell could really alter how these teams are going to play us," Jones said. "That was compromised without having Romo out there. But it will be interesting to see how Washington plays us with the way we are using Williams and Terrell out there."
Owens hasn't had a 100-yard receiving game this season and has been held to three catches or less in four games already. He looks forward to having Romo back and Williams on the field with him more.