A celebration of his life will be at 2 p.m. Friday at St. John United Church of Christ.

Burial will be at a later date.

Mr. Stahlhut was the administrator of Abraham Lincoln Memorial Hospital until he retired in 1983.

He was a U.S. Army veteran.

He was born Feb. 2, 1918, on a farm in Madison County to Paul and Ida Holt Stahlhut. He married Jane Sherman on Feb. 14, 1941, in Oak Park.

He is survived by his daughters and sons-in-law, Carolyn and Gerald Frank of Springfield, Barbara Thake-Noel and Bill Noel of Bloomington, Margaret "Peggy" and Mike Webster of Champaign, and Mary and Bob Shattuck of Lincoln; six grandchildren, Dr. Mary Beth Thake of Seattle, Wash., Nathan Frank of Naperville, William Thake of Robbiate, Italy, Craig Shattuck of Detroit, Mich., Emily Shattuck of Bloomington and Maggie Shattuck, Lincoln; and two great-grandchildren, Madelyn and Jonah Frank.

He was preceded in death by his wife; his brother, Herbert; a son-in-law, Melvin Thake; and a granddaughter, Marjorie Thake.

Emil graduated from Edwardsville High School in 1935 and from Elmhurst College in 1939. He went to Northwestern University to study social work but was drafted into the U.S. Army before he could complete his degree. He served in the military for four years and became a captain in the medical administration corps in North Africa and Italy. Following his military service, he completed his masterís degree with an emphasis in the new field of hospital administration.

He served as a medical administrator at Hines Veterans Hospital in Maywood and as an assistant administrator in Mount Sinai Hospital. In 1950 he opened a new hospital in Maquoketa, Iowa, and served as the first administrator at that hospital.

In 1953, he was recruited by the Deaconess Hospital board in Lincoln to oversee the building of the new Abraham Lincoln Memorial Hospital and merge it with the old Deaconess Hospital. During the 30 years that he was CEO, he oversaw many changes in health care, including the advent of personal health insurance and of Medicare and Medicaid.

He was considered ahead of his time when he encouraged doctors who had been practicing independently in the area to come together and have a joint practice (a precursor to the Family Medical Group) at ALMH. This allowed Lincoln to recruit new doctors and made it possible for specialists from larger hospitals to come to Lincoln weekly to see their patients.

He also started the 24-hour emergency room, the hospital-based ambulance and paramedic system in Lincoln, the hospice program, the Logan County Mental Health Clinic and the Logan County Health Department.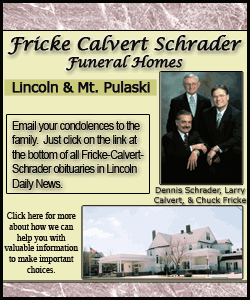 From 1967 to 1983 he wrote a weekly health care information column for the Lincoln Courier.
He was on the board of trustees of the Illinois Hospital Association for several years, the executive committee of the Central Illinois Health Planning Council and the licensing board of the Illinois Department of Public Health. He was a Fellow in the American College of Hospital Administrators.
He was a Lincoln Courier Man of the Month in 1957.
He was a member of the Lincoln Rotary Club, where he was a past president and for many years in charge of the citrus sale. He was also a member of the Lincoln Toastmasters Club, Logan County Association for Mental Health, United Fund of Lincoln, Lincoln Area Chamber of Commerce and the Lincoln Area Music Society. He was an active member of St. John United Church of Christ, where he sang in the choir.
He and his wife became foster parents in 1971. For more than 23 years they served as foster parents to over 200 children. They also served as Master Foster Parents for many years and taught foster parenting classes at Lincoln Land Community College.
After his retirement, he enjoyed traveling through Europe, Russia, Africa and China. He was an avid jogger and competed in many races, including the St. Louis Marathon twice. He ran on the Great Wall of China and through Red Square in Moscow.
In 1997 he was selected for the Illinois Senior Citizen Hall of Fame, recognizing his lifetime achievements.
Throughout his life he inspired young and old with his spunk, humor, friendliness and sincerity. He had a very active life and made many important contributions to the city of Lincoln.
In lieu of flowers, memorials may be made to ALMH Building Fund, 315 Eighth St., Lincoln, IL 62656.
Click here to send a note of condolence to the Stahlhut family.