Food pantry drive, United Methodist churches in Beason and Elkhart, Lincoln College maintenance, Washington-Monroe honor students, Sam Opperman, Kiwanis, and VFW all crowd into Close Up
By Mike Fak
[November 18, 2008] Food Pantry Drive reminder
We want to remind everyone that this coming Friday and Saturday there will be the 2nd Annual Lincoln/Logan County Food Pantry Drive at the IGA. Many clubs, schools, churches, civic organizations and businesses are all getting involved to help make this an unparalleled success. If your group is doing something special please let us know so we can help you get the word out.
http://archives.lincolndailynews.com/2008/Nov/08/News/today110808_oa.shtml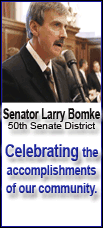 The United Methodist Churches of Beason and Elkhart
The United Methodist Churches of Beason and Elkhart demonstrated the spirit of giving Sunday when they gave generously to their communities.
The members of the Beason United Methodist Church voted unanimously to donate $500.00 to the Logan County Food Pantry. The membership was united in their desire to see that the food pantry would have the resources to provide for the needs of the area this Thanksgiving season. "The church is the only church in Beason and one of the smaller churches in the county, but they have one of the biggest hearts," said Pastor Dayle Badman. "Their concern for those less fortunate is an example of faith in action and certainly is indicative of the hearts of the congregation."
Members of the United Methodist Church in Elkhart also voted to give to a local family that is a member of the church by designating special offerings for Sunday's and next Sunday's offering to help them with miscellaneous expenses during the time their home is being replaced. One member of the congregation voiced the sentiment of all when she stated, "These are family and families help each other. We are small but we are a loving and compassionate church and should be there for our friends and neighbors.
Close Up wants to add kudos to these two great congregations and their marvelous generosity to help others in need. Well done and may the good Lord bless every one of you!
---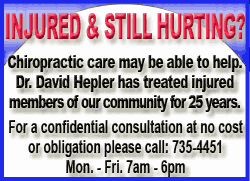 ---

Thanksgiving Fish Fry
The Lincoln College Maintenance Department is kindly inviting everyone to a Thanksgiving Fish Fry, Friday, November 21, 11 a.m. to 1 p.m. in the Maintenance Building. The meal is free to all LC employees. Maintenance is asking everyone to bring a nonperishable food item/donation to give to the Lincoln Logan Food Pantry to help those in need. The items collected will be included with the Student Services/Honors Program donation on Nov. 25.'
---

Washington-Monroe School 1st Quarter Honor Roll
More academic accolades for some of our area youngsters and the Close Up loves to brag about these great youngsters. For the complete list of honor students, click here.
---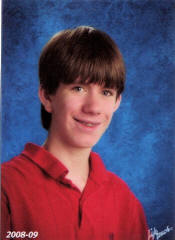 Zion Lutheran October Student of the Month
Sam Opperman, Zion Lutheran School 8th grader, has been selected as the Zion Lutheran October Student of the Month. Sam's ZLS activities have included: track, basketball, band, chorus, chimes choir, Bible Bowl, Student Council Vice-President and Speech team. Church and community activities include: Honor Roll, Jr. Choir, VBS helper, Youth Group, usher, greeter, Live Nativity, summer mowing, Library reading program, 4-H, Walk for Life, soccer, baseball, Lincoln Community Theater, Boy Scouts, Balloon Fest volunteer, Heritage Days helper, Cub Scout day camp helper and roadside clean-up volunteer. Sam also enjoys swimming, farm work and riding his bike. Sam's parents are David and Stephanie Opperman of rural Lincoln.
---

Kiwanis spaghetti dinner coming up
November 22, 2008, the Kiwanis Club of Lincoln will be having a spaghetti dinner at the American Legion at 1740 5th Street. Tickets are available from Kiwanians or at the door. Serving will be from 4:30-7:30 pm and carry out is available. Proceeds go to supporting agencies and activities for the youth of Lincoln.
---

Dance the night away
The VFW dance will be Sunday November 23rd and everyone is welcome. This month they will be having the Donna Weghorst Band and tickets are available at the door. The time is 6:30-9:30 pm at the VFW Post 1957 at 915 5th Street.
---
Got a good piece of news, information or something that we can all brag about? If you do e-mail Mike and let us tell everyone about it. Plus you can win cash. Every submission, whether we use it or not, will get your name in the "Close Up" grab bag. At the end of the month we will draw a name and someone will get $25.00 just for dropping us an e-mail. If you wish, we will be happy to donate your winnings to the organization of your choice.
You can contact Mike at mikefak@lincolndailynews.com.
[By MIKE FAK]