CLASSIFIED ADS
---
PUBLISHER'S NOTICE
Federal and state laws prohibit employment advertisements that express a discriminatory preference on the basis of race, age, sex, color, national origin, religion, handicap, or marital status.
Lincoln Daily News will not knowingly accept advertising for employment which is in violation of these laws. Our readers are informed that employment offerings advertised are available on an equal opportunity basis.
---
Foster Grandparents needed: Active, fun-loving Logan County Seniors aged 60 and over needed to volunteer in local schools, daycares and Community Action Head Start. 20-40 hours each week. Flexible schedules available. Must be patient and love kids. Must have desire to help children with reading, math and more. Earn up to a $400 tax-free stipend monthly.
Call Community Action at 217-732-2159 ext 237 for application and more information.
Ask for Paula Gregg.
Make a difference to the children in your community.
Send a link to a friend
---
[Click on this ad for a larger version]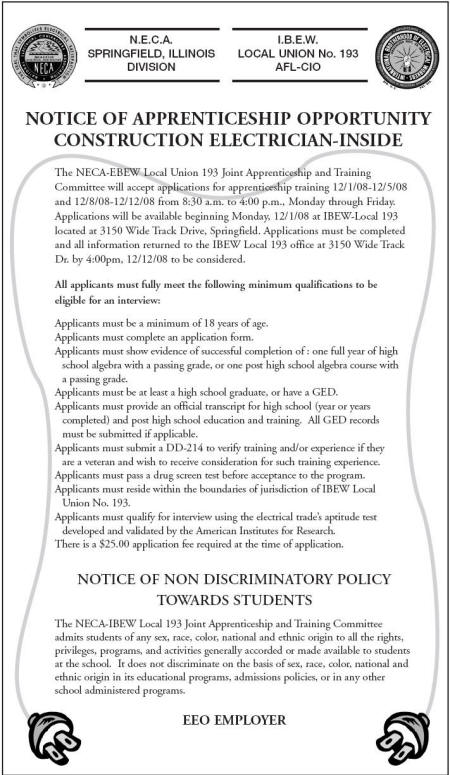 [Click on this ad for a larger version]
---
On Call Home Care Aide: for in home senior care in Logan County. Experience preferred. Must have valid driverís license and proof of insurance. Must have a positive attitude toward the elderly, be able to work independently and maintain records. Applications available at

Community Action, 1800 Fifth Street, Lincoln or at www.capcil.org.

Mail completed applications or resume to

Ellen Burbage, HR Manager,

1800 Fifth St.,

Lincoln, IL 62656.

AA/Equal Opportunity Employer. Minorities encouraged to apply.
Send a link to a friend
---
SALES CONSULTANT: GLENN BRUNK STATIONERS a 50 year old company providing the best in office products to its Central Illinois customers seeks a professional sales consultant. The ideal candidate has excellent communication skills, including computer literacy. Reliable transportation is required as the territory encompasses several counties. The most important qualification is a strong work ethic and a desire to succeed. If this describes you, please forward a resume in complete confidence to: Glenn Brunk Stationers, Inc. 2222 South 6th Street Springfield, Illinois 62703
Send a link to a friend
---
RN or LPN: 2-10pm RN or LPN; excellent pay, benefits apply in person at: St. Clara's Manor, 200 5th St. in Lincoln
Send a link to a friend
---
RN and LPN: full time positions available. Day, evening and weekend positions. Sign on bonus. Apply in person at Maple Ridge, 2202 N Kickapoo St., Lincoln.
Send a link to a friend
---
Are you underemployed? Thinking about a new career? Here's your chance to make a change! MWCI, an area leader in machining, welding and tube bending, is seeking highly motivated individuals for second and third shift positions. Openings currently exist for:
Experience preferred, but we are willing to train the right people. In addition to our attractive benefit plan, we offer a competitive hourly rate. Qualified applicants apply at: MWCI, 70 Commerce Dr., Morton, IL or e-mail opportunities1@mortonwelding.com.
Send a link to a friend
---