Edward Darold Henson

Send a link to a friend
[November 24, 2008] Edward Darold Henson, 90, of Lincoln, died Saturday, Nov. 22, 2008, at 7:35 p.m. at his home.
Visitation will be 4-7 p.m. Tuesday at Fricke-Calvert-Schrader Funeral Home in Lincoln.
His graveside service will be at 10 a.m. Wednesday at New Union Cemetery, with Tim Searby officiating. Military rites will be conducted by American Legion Post 263.
Mr. Henson was employed by Lincoln Community High School for 33 years. He began as a janitor and bus driver and retired as the director of buildings, grounds, and transportation.
He was a U.S. Army veteran of World War II, serving in three campaigns in the European Theater. He received the Combat Infantry Badge and the Purple Heart.
Edward Darold Henson was born Sept. 17, 1918, in Lincoln, to John and Ruth Ann Webb Henson. Darold married Lydia Jane Wilson on Oct. 14, 1940. She preceded him in death in 1978. He married Judy Robinson on Feb. 14, 1988.
He is survived by his wife, of Lincoln; one daughter, Linda Jane Nelson (and husband Jim) Perry of Pasco, Wash.; one son, Darold Leigh Henson (and his wife, Pat Hartman) of Springfield, Mo.; three stepsons, Bobby, Billy and Brian Robinson; four grandchildren, Davis (and Bessie) Nelson, Matt (and Trish) Nelson, Kendra (and Max) Henson-Stroud and Brandon Henson; and five great-grandchildren, Jacob, Ainsley and Mikaela Nelson, and Connor and Ruby Henson-Stroud.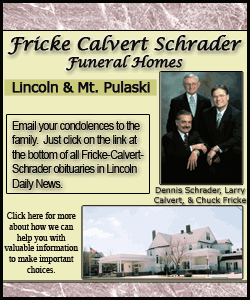 He was a 1936 graduate of Lincoln Community High School, where he was a member of the varsity basketball team.
Darold enjoyed nature and was a lifelong, avid fisherman, an LCHS sports fan and Boston Red Sox fan. He also enjoyed metal detecting, especially for old coins.
His legacy is his loyalty to his country, community and family.
Click here to send a note of condolence to the Henson family.