Frederick Blanford

Send a link to a friend
[October 13, 2008] Frederick L. Blanford, 67, of Lincoln, died Sunday, Oct 12, 2008, at 8:46 a.m. at his home.
Visitation will be from 5 to 7 p.m. Wednesday at Fricke-Calvert-Schrader Funeral Home in Lincoln. His funeral will be at 10 a.m. Thursday at the funeral home, with Ron Otto and the Rev. Jeffrey Laible officiating.
Burial will be in Zion Cemetery, Lincoln

Mr. Blanford was an attorney in Lincoln. He and his brother-in-law, Judge David Coogan, were partners for part of their careers.

He was born May 20, 1941, in Lincoln to Frederick Albert and Armella Clair Myers Blanford. He married Margaret Ann Coogan on Aug. 18, 1961, in Lincoln.

He is survived by his wife, of Lincoln; one son, Frederick James (and Amy) Blanford of Jacksonville; one brother, Steve (and Nancy) Blanford of Denver, Colo.; one sister, Jayne (and David) Zimmer of Lincoln; and three cherished granddaughters, Camille, Abigail and Claudia Blanford of Jacksonville.

He was preceded in death by his parents and one sister, Myrna Kendrick.

He was a member of Lincoln Christian Church, Lincoln Elks Lodge 914, Lincoln American Legion 263 and the Illinois Bar Association.

He attended Lincoln public schools, graduated from the University of Illinois School of Law with a bachelor's degree and earned his Juris Doctorate from the University of Illinois School of Law.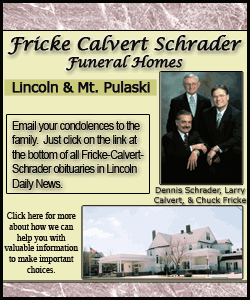 He and Marge enjoyed cooking. Many of his entries at the Logan County Fair won ribbons. Many people enjoyed the birthday cakes the Blanfords made for them and the hundreds of Christmas cookies they baked and delivered each year.
Memorials may be made to the Lincoln/Logan Food Pantry or the Catholic food pantry.
Click here to send a note of condolence to the Blanford family.